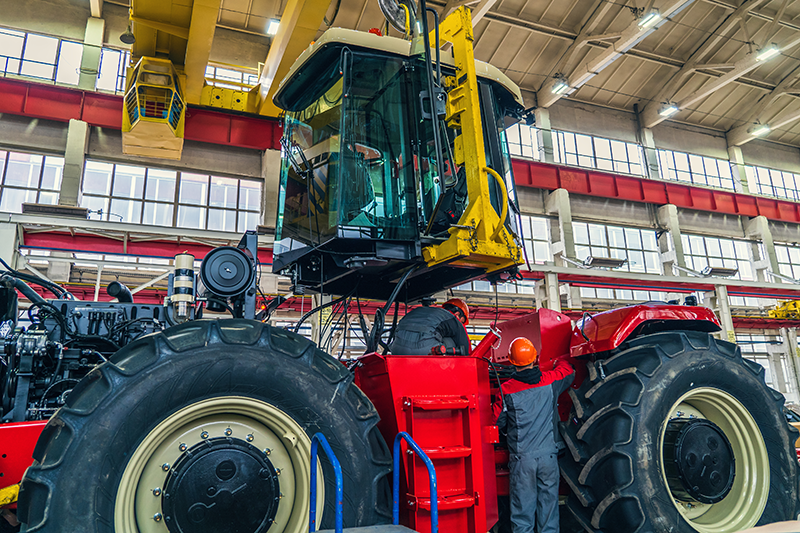 December 09, 2022
An ERP Solution to Tackle the Challenges of Capital Equipment Manufacturers
Capital equipment manufacturers (CEMs) produce large, complex goods such as construction equipment, agricultural machinery, power generation units, and heating/cooling equipment. Production may also encompass a broad range of manufactured sub-assemblies such as engines, pumps, gearboxes, control units, and hydraulic assemblies. These are durable items that are used by other businesses to produce goods and services sold to end customers.  Most likely they are income-producing assets.
The complexity of this operational schema creates a unique set of challenges for CEMs. In this article, we explore the challenges faced by CEMs and present a unified solution to help them tackle these challenges: Infor CloudSuite Industrial ERP solution for manufacturers.
Challenges of Capital Equipment Manufacturing
Increasingly Complex Supply Chains
Manufacturers are becoming less vertically integrated as globalization progresses. Components and sub-assemblies which used to be manufactured 'in-house' are now being sourced from outside suppliers, often located overseas. At the same time, 'lean' initiatives put pressure on inventories of these critical components, which means that supply chain visibility and execution become key to delivering finished goods to the customer.
Successful supply chain collaboration is about coordinating with internal departments and external partners to sustain an optimized flow through the supply chain in order to efficiently meet demand and ensure on-time, in-full delivery. This means establishing real-time shared visibility and processes with supply chain partners to facilitate the identification and resolution of issues. Supply chain collaboration encompasses the full scope of supply chain functions, including purchase order processes, forecasting, capacity planning and quality management.
Demand for Customization
CEMs customers want more flexibility regarding the products they order. Whereas there used to be a rule of 'any color as long as it's black', today's manufacturers are willing to offer a multitude of features and options that affect not only color but also the fundamental technical aspects of their products. As this goes on, the ability to simply 'stock' one-size-fits-all products diminishes.
Companies around the world are embracing mass customization to efficiently deliver unique value to their customers. Out-of-the-box information technology and flexible work processes enable manufacturers to keep costs down and customize small quantities of goods and services for individual customers. However, many CEM administrators have found that even mass customization can add unnecessary cost and complexity. They realize they did not conduct enough research into what kinds of customization customers would welcome before going ahead with this new strategy.
Service Parts Fulfillment
Complex machines can have complex service requirements. In the capital equipment industry, customer machine downtime translates not only into customer dissatisfaction and foregone revenue, but can also translate into concrete penalties.
A streamlined service process helps you deliver error-free responses to customer inquiries and quick completion of work orders. An effective service parts management strategy plans for efficient and effective asset servicing by ensuring that the service team has the resources required to deliver reactive, proactive, and upgrade service activities. After labor costs, parts are typically the second-highest cost element in service delivery, making service parts management a vital component of a cost-effective service program.
Field Service Struggles
Even the best forecasting will be wrong sometimes.  If parts needed to install or repair a component are not available in inventory, purchase orders are created and linked to the service request. If service work depends on receipt of the part, field service resources might be shuffled to other tasks to reduce resource downtime. This equates to the potential for lost revenue and customer dissatisfaction.
In addition, once service technicians are out in the field, ensuring they have access to accurate data, including customer details and asset information and history, is a vital part of efficiently operating a profitable service arm of any CEM business. If technicians are referencing service tickets, spreadsheets, or whiteboards to access this data, the risk of error greatly increases, which can adversely impact the quality of work AND customer satisfaction.
How CloudSuite Industrial ERP Tackles CEM Challenges
Simplify Supply Chain Complexities
Advanced Planning & Scheduling
CloudSuite Industrial's (CSI's) Advanced Planning and Scheduling (APS) is a powerful advanced planning solution that synchronizes the use of work centers, inventory, resources, and supply with customer orders. The APS solution is designed specifically for complex supply chains— the need for processes to flow smoothly and without mistakes, unnecessary steps, wasted resources, or waiting downstream because upstream activities are late. APS provides seamless advanced planning capabilities, increasing on-time performance and throughput while reducing inventory and operating costs.
Vendor Portal
With APS and CSI's Vendor Portal, your vendors have direct access to CloudSuite Industrial data related to their supplied components. Vendors can view purchase orders, change orders and consignment inventory.  Requests for quotes can be delivered and responded to directly into the system improving supply chain efficiency.  In turn suppliers can update the status of their orders by updating changes in due dates.  Access information about inventory level projection, planned orders, and vendor interactions are accessible to insure the collaboration necessary to maintain a responsive supply chain.
Meet Your Customers' Demand for Customization
CSI's Enterprise Configurator (CPQ) allows you to work with preconfigured products or services to support the growing need for product customization. CPQ is a product, sales, pricing, and process configurator that integrates with web, mobile, enterprise, desktop, and laptop interfaces. All customizable product knowledge can be shared on any device.
CPQ's product modeling makes complex product selection and configuration intuitive and error-free. Product model rules, constraints and related data are processed based on user input to ensure an accurate and executable BOM. Sellers and customers can select, configure, and price products while ensuring that only valid combinations of features, options, and dimensions are created, quoted, and ordered.
A customer or distributor can use CPQ's guided technology to create customer-specific documents and associated BOMs for orders. Configuration details are sent to CloudSuite Industrial where they can be fulfilled through standard processing.
Streamline Service Parts Management
Forecasting within CSI automates the calculation of forecasts and other inventory drivers, such as safety stock, and alert users when actual demand varies from the plan.
The forecasting functionality uses historical demand and various algorithms with what-if analysis to predict the required inventory for each service part to minimize the chance of a costly stock-out. Calculated forecasts can be adjusted with overrides at the item level or multipliers at the item or group level before being posted to the CloudSuite Industrial APS system. With CSI, parts managers can calculate optimum safety stock levels, reorder points, and order minimums and update the APS planning system.
Forecasting allows the planning system to consume forecasts when customer orders are entered or will take over the consumption process to allow for usage-based consumption or planning BOM consumption. This allows for either sellable item or components to be forecasted, and the consumption is automatic. It also supports the use of planning bills of material (PBOMs) including consumption algorithms to eliminate the manual process of adjusting planning BOM forecasts for actual sales.
For configure-to-order products, planning bills can specify a single forecast for a group of items and then consume that forecast when members of the group are sold. For common components but with unlimited end-item possibilities, the solution enables customers to forecast the components, rather than the end items, and consume the forecast when the components are used. In addition, CSI's Parts Fulfillment feature alerts the service department when the part has been received so the service scheduling manager can reactivate the tasks and dispatch a resource.
Field Service Solutions
For CEM to be successful in today's environment, they need to offer not only a high-quality asset but also the services customers need for a complete solution. CSI's Field Service module is the ideal solution for companies that use billable work orders or manage extended warranties and sell contracts. The service management feature meets the specific needs of companies that manufacture, install, or service complex products. In addition, CSI has a complete Contact center. Call center employees can access detailed data about customers and the items they have purchased, for fast response to inquiries and work order creation.
CSI's Field Service module enables users to schedule and dispatch technicians efficiently, provide them with access to accurate historical data, and make sure they have the appropriate parts and tools on hand. It also provides visibility to truck stock for field technicians, which improves efficiency, reduces the mean-time-to-repair (MTTR), increases first-time-fix rate (FTFR), and reduces expenses associated with non-essential trips back to the warehouse.
The module can also be configured to track time and attendance of internal and sub-contracted resources as well as billable hours. Company paid or employee paid purchases are reviewed and run through an approval process reducing the paperwork and delays associated with field resources.
Preventative maintenance is an integral part of maximizing assets' life cycles and ensuring customer satisfaction. CSI's Field Service module allows users to schedule routine maintenance for internal assets or customer owned assets in order to prevent unexpected downtimes, extend the life cycle of equipment, and maximize warranty cost savings. Integrated data analytics, total visibility, and accurate tracking make it easy to analyze data down to the root cause failures. Flexible reporting aids in decision making, planning, and providing engineering with valuable information needed to adapt product or part designs.

Multiple Challenges. One Solution.
The challenges inherent to capital equipment manufacturing are numerous. However, Infor's CloudSuite Industrial manufacturing ERP is a singular solution to tackle these challenges. CSI enables users to access data from a single source of truth, thus empowering them to overcome the challenges associated with managing complex supply chains, multiple vendors, inventory, and exacting customer expectations. Seeking a solution to help your manufacturing business overcome these challenges? A configurable solution that will scale with your business for years to come? Contact Guide Technologies today to learn more and request a personalized demo of CSI.