Birst is a next generation platform for enterprise BI and analytics. It enables all users to access data and more importantly use data to make business decision. With Birst users are able to quickly create reports, KPIs, and dashboards with all data throughout the organization. Birst is a born in the cloud and addresses all architectures public and private clouds, on-premises, and hybrid. It is a unique, comprehensive platform for sourcing, refining, and presenting standardized data insights at scale to drive business decisions. The Birst business intelligence platform is a top ranked, rich, and simplified end-to-end BI suite.
Birst is a enterprise business intelligence platform that connects together the entire organization through a network of interwoven virtualized BI instances on-top a shared common analytical fabric. Birst enterprise BI delivers the speed, self-service, and agility front-line business workers demand, and the scale, security, and control to meet rigorous corporate data standards.
Birst streamlines and accelerates the processes of gathering, analyzing, reporting, and planning key business information.
Unifies complex data across sources.
Ability to analyze complex processes and models in real time.
Enables agility with uniform and global views by blending centralized and decentralized data.
Provides trust throughout the organization because values are correct.
Enables users by providing the ability to use a variety of tools. Engaged users drives adoption and ongoing usage.
Ability to get data on demand data using a mobile device.
With Birst, users improve their ability to:
Access critical business information.
Filter and analyze data for better decision making.
Publish information throughout their organizations-anytime, anywhere.
Update reports and analysis on a timely basis without requiring IT resources and involvement.
Connect data from multiple sources into a single report.
Quickly transform raw data into valuable information.
Get faster results and higher ROI on your business intelligence investment.
Plan and forecast their business.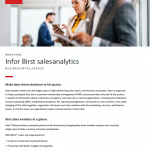 Sales leaders need to hit the target, grow a high-performing sales team, and forecast accurately. Data is supposed to help accomplish this, but a customer...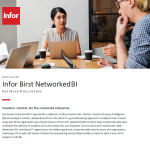 Networked BI from Birst, an Infor® company, is a groundbreaking approach to analytics that connects every part of your organization via a shared analytical fabric...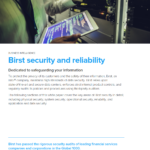 Birst relies upon state-of-the-art and secure data centers, enforces strict internal product controls, and regularly audits its policies and procedures using third-party auditors.