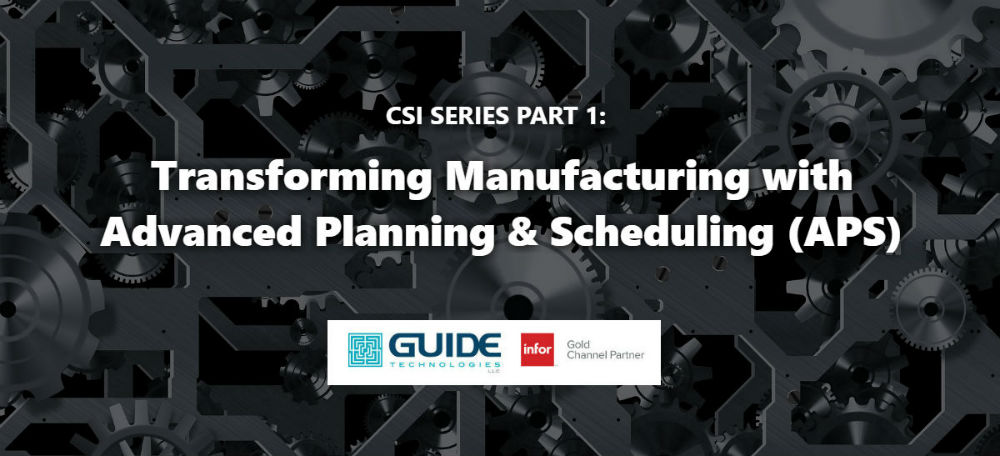 March 04, 2019
CSI Series Part 1: Transforming Manufacturing with Advanced Planning & Scheduling (APS)
Competition in the manufacturing industry often boils down to one key factor: efficiency. The company that can reduce costs and inventory without sacrificing quality and service wins.
If only it was truly that simple!
For many manufacturers, achieving this kind of efficiency requires significant changes to the way they do business. Efficiency requires proper planning, and efficient planning is demand-driven. Production capacity and the flow of materials should be synchronized to the customer due date. Fluctuations in demand and anything that impacts your ability to produce must be anticipated ahead of time. Companies need solutions in place that are designed to give them not just the date, but the insights they need to make more informed decisions, faster than ever before.
What if you could know the exact date an order would be delivered as soon as it was placed or quoted?
What if you could place an order for the exact resource you will need at the precise time you will need it? 
What if you knew ahead of time how an unplanned order would affect your other customer orders, material requirements, capacity and cost of manufacturing?
This is the new playing field. Manufacturers are out there doing these things right now, and they're winning because of it. Not only is their digital transformation helping them be more efficient, but it's helping them raise the standards of customer service and what is expected. 
With Infor CloudSuite Industrial's Advanced Planning & Scheduling (APS) capabilities, you can do all of these things (and then some) and make that competitive advantage your own. APS generates real-time projections of when you can complete orders by comparing all demands (such as customer orders) against a long-term plan. The system views the current status of inventory levels, forecasts, job schedules, PO due dates, customer orders, etc. and creates planned orders accordingly to satisfy the demands. You then "firm" the planned orders into purchase orders, purchase requisitions, job orders, production schedules, or transfer orders when you're ready.
The long-term plan includes crucial information like:
Demand orders that consume inventory and resource capacity
Supply orders that add to inventory
Each operation in the plan
Each item in the plan
The projected completion date for every planned order
Each resource allocated to a job
Scheduled operations (for work orders in which the resource usage is frozen)
Every lateness cause for every demand in the plan
Do you have the tools, materials, people, machines, and overall resources you need to manufacture an item? Can you continually monitor the demand as it rises and falls? Rather than blindly committing to an unplanned order, see the ripple effect it will have not only on your schedule but your shop floor as well. That way you can reset expectations with existing customers, or find another way to make things work. If a machine malfunctions, you will be able to update production schedules rapidly to compensate and keep goods, materials, and information flowing. In the process, you'll increase productivity, improve the accuracy of your orders, increase on-time delivery and, most importantly, keep your customers happy.
No matter the size, scale, or scope of your company, Infor CloudSuite Industrial (SyteLine) can be customized to meet your company's operational needs. You'll be able to customize, adapt, and be confident.
Customize
Fine-tune your ERP system as you go and create a tool that solves your personal day-to-day business challenges both quickly and efficiently.
Adapt
What happens when an unexpected order crash lands right in the middle of your production floor? You can reconfigure your current schedule so you can still deliver all your orders on time, without any interruption.
Be Confident
You'll know you have the tools you need to succeed. And you'll know you're getting them from an experienced team of professionals that has what it takes, knows what to do, and knows manufacturing from the production floor to the office. It's a support team that will have your back any time you need them.
Advanced Planning & Scheduling is a core capability of Infor CloudSuite Industrial (SyteLine) ERP. If you have any questions about what Infor CSI and APS can do for your business, talk to an expert on our team! We know the ins and outs of Infor solutions AND the manufacturing industry. Contact us for an in-depth conversation or software demo today.