INDUSTRY-SPECIFIC FUNCTIONALITY FOR MANUFACTURERS
An ERP solution to simplify and automate complex manufacturing processes.
Infor SyteLine (CloudSuite Industrial) is a robust enterprise resource planning (ERP) solution specifically designed to help manufacturers improve productivity using manufacturing best practices and highly efficient process flows. You'll be better able to monitor customer demand, schedule delivery dates, and track resources. No matter how complex your supply chain is, you'll respond faster to change, reduce excess inventory, cut costs, and deliver what you promised to your customers on time. With Infor SyteLine (CloudSuite Industrial), you can win the race against time by getting your products to market quicker and better matching supply with demand.
Developed by experts in the manufacturing industry, Infor SyteLine (CloudSuite Industrial) has more than 25 years of experience built in. Taking advantage of smart functionality that addresses the key challenges facing manufacturers today, Infor SyteLine (CloudSuite Industrial) requires less customization, shorter implementation time, and fewer IT resources to maintain. You'll see a fast return on your investment and lower total cost of ownership over the long term.
From selling and sourcing to production and fulfillment, Infor SyteLine (CloudSuite Industrial) provides clear visibility across your organization, helping you automate and manage key business processes. Be confident that you've got the solution you need to get the job done—and that you're getting it all from an experienced support team.
Infor SyteLine (CloudSuite Industrial) provides the foundation to improve business efficiencies, customer service, and overall manufacturing productivity for a broad range of industries, including metal fabrication, industrial equipment and machinery, high-tech and electronics, and more. Infor SyteLine delivers a complete package, with advanced capabilities and tools to help you better manage:
Sales and customer relationship
Production
Supply chain
Inventory
Financials
Service management
Quality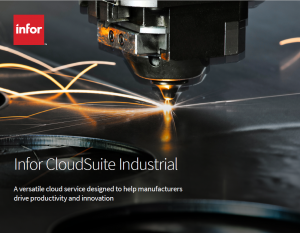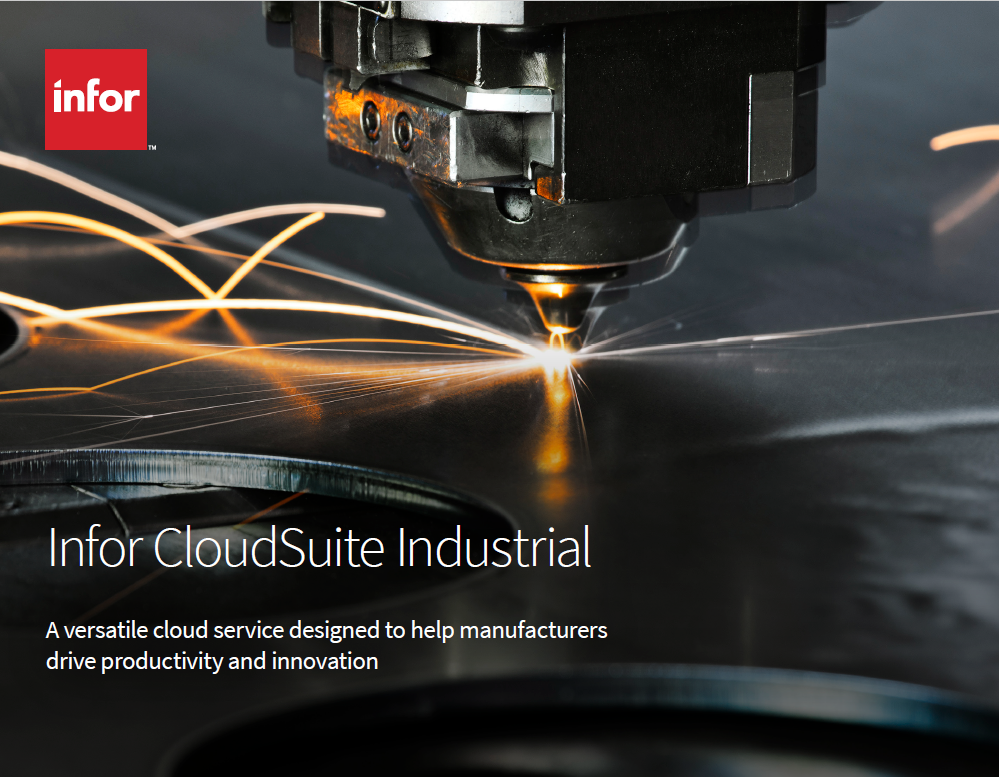 Infor CloudSuite (SyteLine) Brochure
Developed by experts in discrete manufacturing, Infor CloudSuite Industrial (SyteLine) has more than 30 years of experience built in.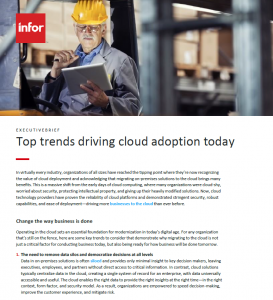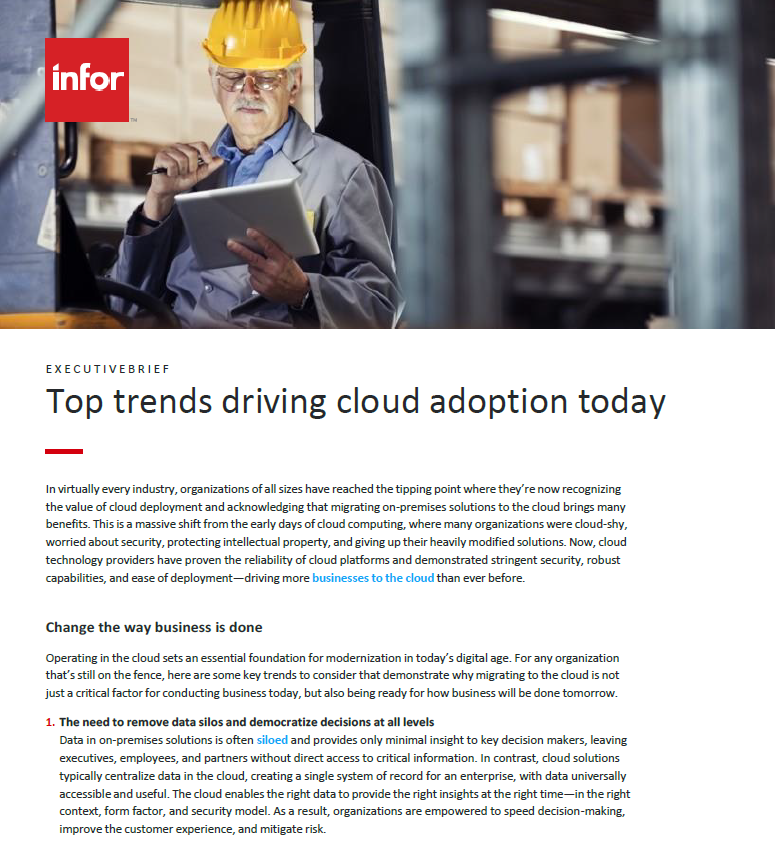 Top Trends Driving Cloud Adoption
In virtually every industry, organizations of all sizes have reached the tipping point where they're now recognizing the value of cloud deployment and acknowledging that migrating on-premises solutions to the cloud brings many benefits.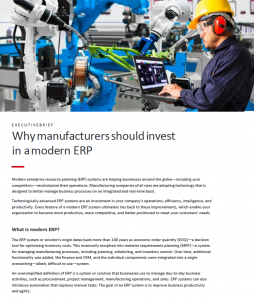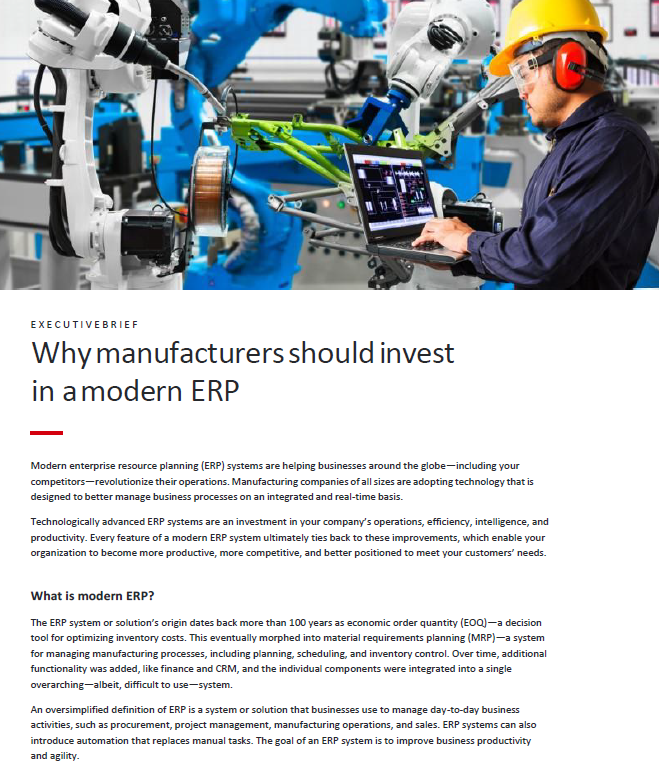 Why Manufacturers Should Invest in a Modern ERP
Modern enterprise resource planning (ERP) systems are helping businesses around the globe—including your competitors—revolutionize their operations. Manufacturing companies of all sizes are adopting technology that...
Reduced costs. Accurate data. Increased productivity. Satisfied customers.
Infor SyteLine (CloudSuite Industrial) helps manufacturers like you improve your bottom line by adapting business processes to market requirements. Deliver more with less, and win the race against time.
From repetitive to engineer-to-order, Infor SyteLine (CloudSuite Industrial) gives you the power to accelerate production and meet customer demand more quickly. With Infor SyteLine (CloudSuite Industrial), you can:
Define your business processes to make the system work how you need it to.
Plan and schedule order by order.
Improve forecasting speed and accuracy.
Minimize error-prone manual steps.
Return to work quickly when you get an unexpected order.
Reduce inventory levels and shortages.
Increase customer satisfaction.
Get to market quicker.
Deliver orders in full, on time, every time
Solves your manufacturing business's unique and complex challenges.
With Infor SyteLine's (CloudSuite Industrial) extensible framework, you're able to adapt it to your business, rather than forcing your business to fit a rigid set of processes and procedures. Adapt Infor SyteLine (CloudSuite Industrial) to new business requirements without incurring the high cost and delays involved in modifying or writing new code. With Infor SyteLine (CloudSuite Industrial), you gain a powerful, easy-to-use solution that works the way you do.
Infor SyteLine's (CloudSuite Industrial) core capabilities include:
Mixed-mode manufacturing
Accelerate mixed-mode manufacturing production processes and meet customer demand quicker.
Complex product configuration
Ensure configured orders are accurate for the customer and feasible for the production department.
Advanced planning and scheduling (APS)
Continually monitor demand as it occurs and update production schedules quickly, so you can provide accurate and real-time capable-to-promise estimates to your customers.
Materials and inventory management
Automate the process of calculating and monitoring your inventory drivers-forecasts, safety stocks, and order size-to keep inventory low while avoiding shortages.
Customer management
Efficiently manage the entire sales process, from customer lead origination and sales opportunity tracking, through converting prospects to customers, and placing the orders.
Role-based information
Make faster, more efficient, and informed decisions using dashboards that feature the actions and data most closely associated with specific, defined jobs, such as customer service, controller, and production planner.
Better user experiences
Get the information you need, when you need it, with user interface that can be easily customized to fit a particular industry, team, or user-without having to call on IT for help.
Mobile solution for warehouse logistics
Allow your warehouse personnel to connect with your ERP system with Infor Warehouse Mobility. Fully automate key business processes, cut costs while improving profits, and enhance your ERP functions with specialized modules, such as Pallet Management.
Microsoft-based system
Save time on implementation, customization, and training with familiar tools and common navigation.
Flexible deployment options
Benefit from multiple Infor CloudSuite Industrial (SyteLine) deployment and buying options, which include on-premises software, hosted Software as a Service (SaaS), and subscription models (including optional application managed services).
Quality Management
Manages advanced quality activities across your entire organization, including quality incidents, change management, and responses to audit findings.
Successful INFOR SYTELINE (CLOUDSUITE INDUSTRIAL) CLIENTS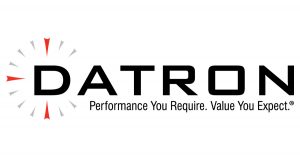 Your challenges are our motivation.
At Guide Technologies our mission is to provide manufacturers solutions to their business challenges. We do so with industry-recognized Infor software and our unparalleled consulting expertise. Find out why we are the partner of choice for 250+ manufacturers, just like you.