Infor CloudSuite Field Service
The Power of Infor Field Service
These days, it's not enough just to be more proactive in tracking and managing the performance of your service and maintenance organization efficiently. You need to create a fully-connected service organization that drives value across your entire enterprise.
With Infor CloudSuite Field Service, you get the tools you need to provide world-class service for your products. You'll be able to do much more than just focus on completing service requests; you'll also be able to take a strategic approach to parts availability, workforce readiness, scheduling optimization, sales opportunities, and more.
Access to real-time data that's accurate and complete is critical to your success. Infor CloudSuite Field Service enables users to make decisions quickly and with confidence because the information comes from a tightly integrated solution—no more making guesses or relying on day-old spreadsheets from isolated systems.
Infor CloudSuite Field Service solution highlights:
Customers gain speed, breadth, and quality of service, as well as the ability to:
Resist attacks by competitors by developing a highly responsive, information-driven service organization that leads to trusting, long term customer relationships.
Fine-tune information systems on the fly to solve day-to-day business challenges quickly and efficiently.
Rapidly adjust schedules as new orders arrive, to deliver services on time, without interruption.
The Infor CloudSuite Field Service Advantage
With Infor Field Service, you can:
Quickly process assigned activities on any device
Accurately track materials and costs.
Give technicians easy access to relevant documents.
Generate visit reports and enable approval signatures via technician's mobile device.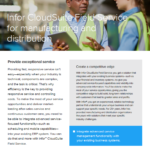 Infor CloudSuite Field Service integrates with your existing business systems to give you advanced service-focused capabilities and visibility into company-wide information.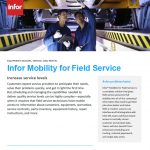 Customers expect service providers to anticipate their needs, solve their problems quickly, and get it right the first time. But scheduling and managing the capabilities...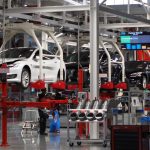 It's no secret that the manufacturing industry is changing at a rapid pace. In fact, it has always been that way – dating back to...