Infor Configure Price Quote
Whether you're creating complex products or bundling existing products and services, your sales team, partners, and distributors must have the right tools to provide the ideal buying experience to customers—one that's fast, accurate, visual, and collaborative.
With Infor Configure Price Quote (CPQ), you can sell complex products more quickly from opportunity to cash, eliminating costly errors and speeding up the sales cycle. Because the solution makes CPQ capabilities central to your sales process, you can give your sales reps an enormous competitive advantage and a quicker path from engagement to conversion in your customer's journey.
Infor Configure Price Quote gives manufacturers and distributors of custom products the tools to streamline the selling and production of their configured products.
Infor CPQ Benefits
Eliminate errors—Provide accurate information to customers, dealers, and manufacturing.
Differentiate your brand from the competition—Make it easier for buyers to buy from you, and sellers easier to sell for you.
Increase sales—Empower every sales person, customer service rep, dealer, and distributor to become a product expert.
Decrease costs—Reduce the need for engineering support in sales and other processes.
The Infor CPQ Advantage
Capture the knowledge of your product experts in easily maintained product models.
Guide users through the selection of the product, features, options, and dimensions that best fit their needs.
Generate a wide range of configuration-specific outputs, including images, models, and documents.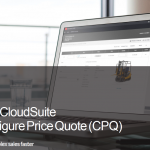 Infor CloudSuite Configure Price Control Brochure
Designed to provide an unmatched user experience, Infor CloudSuite™ Configure Price Quote (CPQ) delivers industry-specific capabilities without extensive customizations or integrations by combining the Infor®...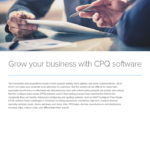 White Paper:
Grow Your Business with CPQ Software
Infor Configure Price Quote (CPQ) helps discrete manufacturers and distributors increase sales, reduce costs, and differentiate their business.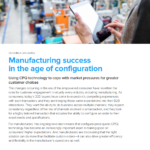 White Paper: Manufacturing Success in the Age of Configuration
For manufacturers, the ongoing revolution means that configure-price-quote (CPQ) technology has become an increasingly important asset in making good on consumers' higher expectations.