Infor EAM is the most configurable enterprise-grade asset management solution on the market. It gives you the power to improve capital asset management in ways that increase reliability, enhance predictive maintenance, ensure regulatory compliance, reduce energy usage, and support sustainability initiatives. Available in industry-specific editions, it also gives you unparalleled flexibility to zero in on the specialized, industry requirements that can turn your company's asset management into a competitive advantage.
Infor EAM solutions help you with:
Maintenance—Schedule preventive maintenance, and assign resources where they'll do the most good.
Uptime—Find out where and why your capital assets might fail, and plan alternatives.
Reliability/risk management—Predict equipment reliability problems so you can prevent them from happening.
Inventory/warranty—Reduce inventory and purchasing costs, and collect on warranty-related claims.
Strategic planning—Manage your assets so you can meet corporate performance goals.
The Infor EAM advantage
Infor EAM customers gain:
Up to 50% reduction in maintenance overtime, labor, and contractor costs
20% reduction in maintenance material costs
20% reduction in production downtime
20% or more in energy reductions
5% reduction in new equipment costs
10% increase in fleet availability
50% increase in warranty cost recovery
50% reduction in purchasing process costs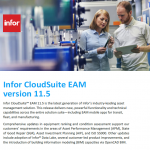 Infor CloudSuite™ EAM 11.5 is the latest generation of Infor's industry-leading asset management solution. This release delivers new, powerful functionality and technical capabilities across the...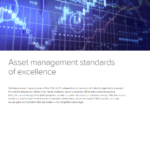 Put information at your fingertips, more effectively manage energy costs, and get access to expanded functionality with the latest release of Infor EAM.