Be a leader in your industry by leveraging technologies for greater business results.
Traditional ERP systems focus on discrete manufacturers. Bills on Materials define the product structures. Assemblies follow along routings and are reported through production as discrete units of measure. That set of rules just does not work for a process manufacturer. When looking for an ERP system to support your Process Manufacturing we recommend five key pieces of functionality.
We understand the challenges in Process Manufacturing.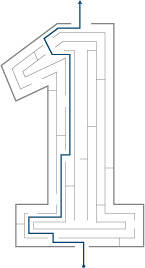 Recipe Formulation/Revision Control
With the complex nature of formulas and recipes, process manufacturers require a recipe formulation function that decreases the time spent on tedious calculations and avoids costly errors. CSI provides the capability to manage the creation of new formulations, record key details recipe development, document manufacturing instructions and control of quality test plans.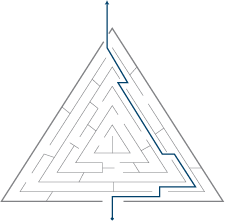 Lot Tracking and Traceability
In your highly regulated industry, lot tracking and traceability is a top priority. CSI provides automated end to end lot traceability from raw materials to the finished product. Your company will be better able to respond to potential problems or initiate product recalls as soon as possible – thus, saving you time and possible negative consequences.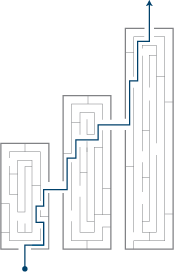 Co-Product & By-Product Management
It's likely you're dealing with co-products and by-products, as both have the potential to provide significant financial impact to your company and must be accounted for and managed in a ERP solution. Accurate accounting of by-products and co-products include on-hand quantities, location and proper documentation on the formulations. CSI enables you to have a full financial picture of your company's manufacturing process.
Mixed Units of Measure
It is likely that you purchase ingredients in kilograms, stock the item in pounds and count them by the case. The ability to calculate inventory in terms of units of measurement in various stages of production improves performance, customer service, reporting and accountability. CSI deftly handles these types of conversions throughout the process of purchasing materials, manufacturing the product, maintaining inventory, managing orders and shipping.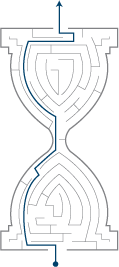 Shelf-life
Due to the nature of process manufacturing, you are aware of the constant concern of a product's shelf-life. As raw ingredients and products become unusable after a certain length of time, it is necessary to have built-in, ready to go functionalities that creates alerts when materials are nearing or past their expiration date. CSI addresses this concern by assisting your company in meeting consumer safety standards and staying compliant with industry regulations.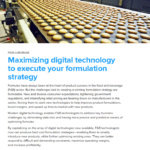 Modern digital technology enables F&B manufacturers to address key business challenges by eliminating data silos and having more precise means of optimizing formulas.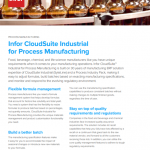 Infor CloudSuite™ Industrial for Process Manufacturing is built on 30 years of manufacturing ERP solution expertise of CloudSuite Industrial (SyteLine) and a Process Industry Pack,...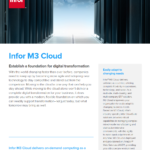 Infor M3 is rich industry-specific solutions that provides functionality to meet your unique manufacturing business needs.