Your customer relationships are the driving force of your business. By offering a complete view of every customer touch point across your sales, marketing, customer service, and support teams, Infor CRM enables you to maximize the impact of every interaction—across the entire customer lifecycle—whether in the office or out in the field. It is the very definition of true customer relationship management.
The best part about Infor CRM is that it's built for your business. Industry-specific capabilities, deep integration, and unparalleled flexibility and control in how you deploy, use, and pay for your solution offers a best-of-breed CRM solution without compromise.
Infor CRM Solutions Help Manufacturers with:
Sales –  Effectively manage your sales pipeline, drive opportunities to a close, and have visibility across your sales team's performance from anywhere.
Marketing –  Deploy and track marketing campaigns using reporting and analytics, you can monitor the responsiveness to your campaigns.
Customer Service – Enable service and support teams to quickly resolve customer issues and deliver a quality customer experience that builds loyal, profitable customer relationships.
Analytics and Reporting – Powerful analytics of business and team performance help increase individual effectiveness and maximize organizational and customer intelligence.
Mobility – Edit all account and contact information, view KPIs, access charts, and keep track of their schedule and activities across multiple mobile platforms.
The Infor CRM Advantage
Infor CRM users can:
Create and execute campaigns in 50% less time.
Manage campaigns with 30% fewer employees.
Increase response rates by up to 400% and gain quicker feedback on effectiveness.
Reduce direct mail by up to 95%, with less frequent, more "on message" contacts.
Increase visibility over call center performance.
Link Infor ERP systems and data to the front-end lead management in Salesforce.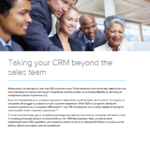 Taking Your CRM Beyond the Sales Team
To build customer loyalty, gain a competitive advantage, and capture more revenue, companies will need to invest in increasing employee adoption of , and proficiency.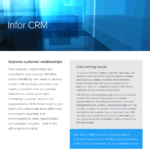 Infor CRM
Infor CRM is a state-of-the-art-technology platform that empowers users to maximize the value of customer data.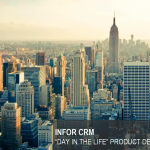 Infor CRM: A Day in the Life
Infor Customer Relationship Management software provides a complete view of every customer touch point across your sales, marketing, customer service and support teams that will..