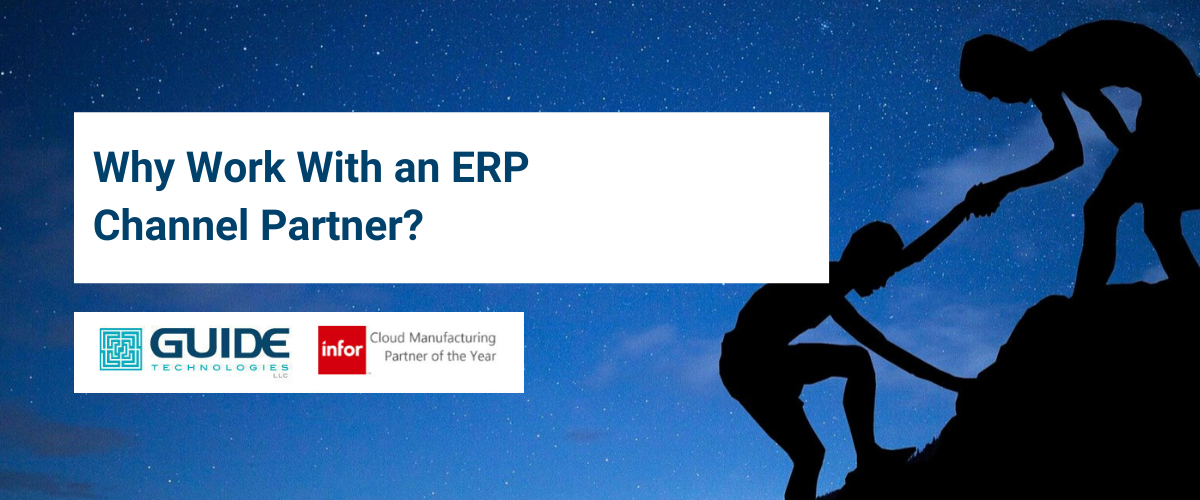 February 28, 2020
Why Work With an ERP Channel Partner?
5 Ways an ERP Channel Partner Can Make Your CloudSuite Implementation Successful
No business wants to see its investments turn into expenses. This is especially true for major enterprise software investments like ERP. Choosing the right software — preferably an industry-specific, modern ERP — is your first step to success. A modern ERP built for manufacturing will not only provide the tools and features you need to manage your processes today, but it will also give your organization the flexibility necessary to support growth as your business changes through the years.
More Info: Why Manufacturers Should Invest in a Modern ERP
Once you've found the right ERP solution, the next most important factor in your success is implementation. Working with a trusted and proven ERP channel partner like Guide Technologies will help you achieve results and ROI from your digital transformation faster and maximize those gains as you steer into the future. Here are five good reasons why you should work with an ERP channel partner.
1. We Help Revamp Your Processes
Modern ERP systems touch nearly every important area of your manufacturing business, integrating planning and production, supply chain management, sales, marketing, finance, human resources, procurement, and more. This broad reach across your business processes is a big part of what makes ERP so powerful, but it's also a big part of why ERP projects can be challenging. Your ERP channel partner will be deeply familiar with your industry, your business, and your software. They will apply their expertise and previous experience to help you streamline and design your processes to work with the modern ERP. And since a channel partner works more closely with the software vendor than a typical ERP consultant, they can also help tailor your ERP software to fit your custom and proprietary processes. It's two for one — all for you.
Learn about Infor CloudSuite Industrial - the #1 Manufacturing Cloud ERP of 2019
2. We Save You Time & Money
Back when enterprise resource planning solutions first emerged in the manufacturing industry, some companies found it challenging to justify the cost. Standing here today, a few decades on in a world that practically runs on enterprise software, it would be easy to dismiss those early concerns as shortsightedness. However, these concerns were not entirely unfounded. Many manufacturers have achieved astonishing ROI from their ERP investments, but not every implementation has been so successful. Some software packages like Infor CloudSuite Industrial have a better track record than others. More often, however, success in savings once again comes down to implementation. Working with an experienced ERP Channel Partner will help tremendously here. We can help you make decisions and plans faster. We'll get you through any bumps in the road as quickly as possible to minimize downtime during the transition. We also help you gain ROI from your modern ERP faster than our competitors. Guide Technologies is proud of our track record of being 95% on time and on budget.
Meet your low risk, high reward business partner
3. We Provide ERP Support
Any enterprise software vendor worth a second look will provide robust support services for its users. It's one of the things we love about Infor manufacturing solutions. Infor Support Services and the Infor Xtreme Team are truly excellent. When it comes to running your business though, software support can only go so far. It is the job of your software vendor to support their solutions. It is your ERP Channel Partner's job to support YOU. From your very first meeting through your successful daily implementation, your ERP channel partner should be able to assist you with train, troubleshooting, and guiding your organization through its digital transformation.
Learn How Guide Technologies & Infor Have Your Back
4. We Offer More Than Software
The best ERP channel partners bring much more to the table than just modern ERP software. As business consultants and manufacturing industry experts, they should provide deep knowledge and hands-on experience, proven processes, and additional software and service partnerships that help round out and complete your digital transformation. Guide Technologies has had over 20 years to work it all out, and we've mastered manufacturing digital transformation down to an artform we call our i25 implementation process.
Learn More: How We Implement Manufacturing ERP
5. We Are ERP Experts for Your Industry
An Infor ERP channel partner is a lot more than a consultant who specializes in Infor's software. These titles are not just given out, they are earned. Channel partners are carefully reviewed and selected by the software vendor based on their demonstrated industry and proven history of success.  Guide Technologies, Infor's Cloud Manufacturing Partner of the Year for 2019, has over two decades of hands-on manufacturing industry experience in the following manufacturing verticals. Follow the links to learn more about our expertise:
If you have other questions about Infor CloudSuite Industrial solutions or Guide Technologies' award-winning ERP consulting and implementation services, head over to our contact page and get in touch. Our manufacturing industry experts will be happy to help guide your success.