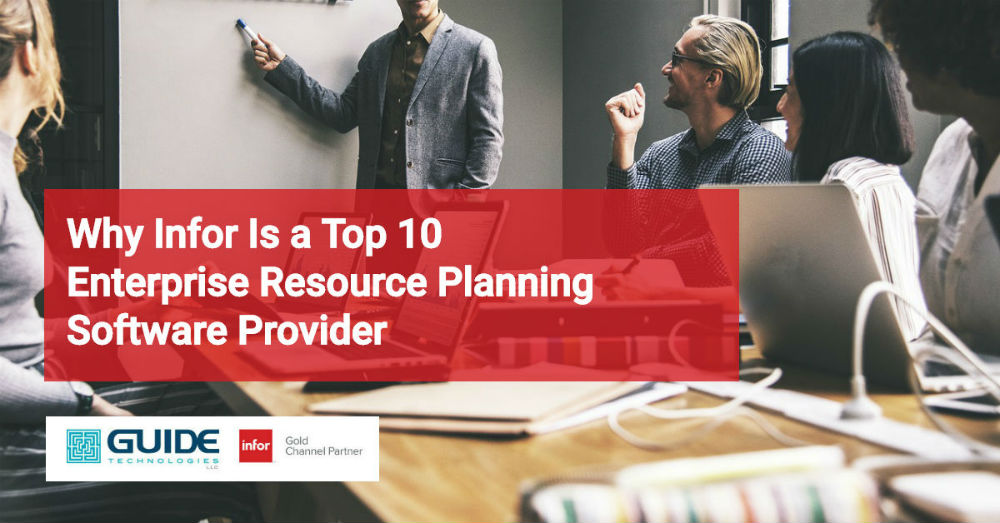 May 15, 2019
Why Infor Is a Top 10 Enterprise Resource Planning Software Provider
You may have seen that eWeek released a list of their "Top 10 Enterprise Resource Planning Software Providers" earlier this spring. If you haven't seen the article yet you can read it here. It came as no surprise to us here at Guide Technologies that our partner, Infor, made the list. The review was overwhelmingly positive and included this deserved praise:
"The platform is suitable for a wide range of industries that span manufacturing, consumer goods, services, public sector, and energy. The application incorporates artificial intelligence functions and powerful analytics and reporting functions."
Infor continues to stay on the forefront of developing technology and is still looking for ways to grow and expand. At the recent Infor Inspire event in Amsterdam, CEO Charles Phillips spoke about the future of Infor. The company's vision is why it will continue to appear on prestigious lists such as the eWeek Top 10 ERP Software Providers.
Good Investments Yield Positive Returns
Infor's foresight has enabled them to successfully expand from it's traditional base in manufacturing and distribution but has also allowed for fruitful investments in emerging technologies like Artificial Intelligence. Over the last 4 years Infor as averaged nearly $1bn per year invested in research and development. Infor has been spending in other areas too such as data enhancements, IoT, user experience and apps. Infor hopes to develop its own eco-system which means that spending trend is likely to continue.
Due to their investments, Infor has already added 3,000 features to CloudSuite solutions in the past year. Meanwhile, Infor has eclipsed 1,900 partners with operations in over 200 countries. With 77 million users in the Infor Cloud and nearly 9,000 customers, Infor's growth trajectory has never looked better.
Infor's Focus on People
Phillips believes due to the extreme rate at which technology and automation are advancing the nature of work is changing. He referenced the fact that over a quarter of the world now has a smart phone in their pocket, however he wondered if work was getting simpler or if workers were becoming more productive. The productivity rates in the US and Europe haven't even grown by 10%. Technology needs to be more helpful.
The IPO Release is Coming
At the start of 2019 Infor confirmed that IPO plans were 12-24 months away. The company had gained $1.5 billion in investment from current shareholders. However, Infor doesn't appear to be rushing to go public, instead waiting for the proper timing and market conditions.
Infor Means Innovation
The company's CTO, Soma Somasndaram also spoke at Infor Inspire and suggested that Infor is the only company currently operating at scale across the entire supply chain environment. Somasundaram says the three critical features leading innovation include:
1.     Ensuring all channels with access to data are secured in a unified manner.
2.     Most businesses have multiple systems generating data, all these data streams create the need for a full-service data solution to support the business.
3.     API's that integrate different data from varied locations and companies.
What It All Means for the Factory of the Future
Guide has written before about how much we enjoy being partnered with such a forward thinking company in our "All About Infor" blog post from 2017. Looking back at this post, we were glad to see that the reasons we believed in the company back then are still relevant today. Infor is the type of company that will continue to attract new clients in new sectors and branch out in new directions. However, Infor remains true to its roots in manufacturing. Infor is still well placed to capitalize on manufacturers looking to replace their current ERP software.
Infor's CloudSuite products were redesigned to allow customers to adopt them without the need for expensive customization. The company also continues to support on-premise migration to cloud-based solutions and can embrace emerging technology like Edge AI. This separates Infor from its traditional rivals.
Are you ready to get on board and push your business forward into the future with a top 10 enterprise resource planning software provider? Let us be your Guide to innovation with Infor CloudSuite.