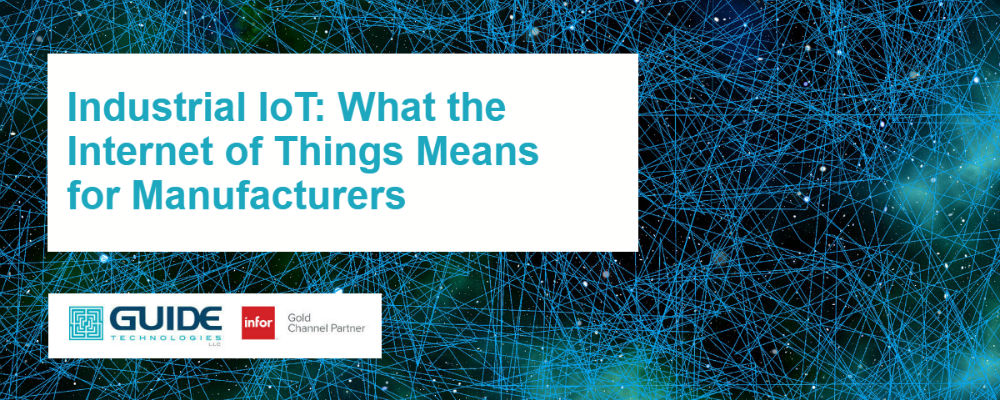 November 14, 2018
Industrial IoT: What the Internet of Things Means for Manufacturers
The "Internet of things" (IoT) is a growing topic of conversation for manufacturers. Unlike many industrial technologies, IoT not only has the potential to impact how we work, but also how we live. It is a thrilling new frontier for technology, full of possibilities and potential. The full extent of exactly how this "Internet of Things" will affect you both in and out of the workplace is still largely unknown. The picture is becoming clearer, however, and lots of technical and policy-related conversations are being had at the highest levels.  In this post, we're breaking IoT down to the basics to help manufacturing professionals be prepared for those conversations.
What Is the Internet of Things
The Internet of Things is the network of physical devices, machines, vehicles, appliances, and other items embedded with technology that allows them to collect and share data without human intervention.
There are more than 12 billion devices that can currently connect to the Internet, and researchers at IDC estimate that by 2020 there will be 26 times more connected things than people. This astronomical growth outlook is based on a "perfect storm" of technology advancements and market changes happening right now. Lightning-fast internet is becoming more widely accessible, and global smartphone penetration is skyrocketing. More and more devices are being made with built-in connectivity, including a wide range of industrial machines and manufacturing equipment.
Industrial IoT: The Internet of Things in Manufacturing
IoT is predicted to be the "next big thing" in manufacturing, and it makes great sense. Manufacturing is all about "things", after all. IoT in manufacturing isn't just about the the goods being produced, however. It is also about implementing IoT technology internally to help reduce downtime, save resources, and increase revenue.
IoT empowers manufacturers to achieve these goals by allowing them to better monitor and manage their manufacturing equipment, the IoT-enabled goods they produce, and their service resources. IoT and the connected devices provide the data, and software solutions like Infor CloudSuite Industrial ERP organizes, analyzes, and puts that data to work for the business.
Let's take a look at how the Internet of Things affects not only ERP software like Infor CloudSuite, but the manufacturing industry as a whole.
Inventory replenishment needs could be instantly communicated to the ERP system through the use of Internet-connected sensors and devices.
Lean manufacturing could get even leaner by reducing much of the need for human interaction with data and machinery. It would allow manufacturers to receive notifications when products need attention. Still, businesses would need to be able to adapt their processes and respond accordingly.
IoT is accompanied by massive amounts of new data that will need to be collected, processed, analyzed, and utilized efficiently by an ERP software; therefore the system must be powerful enough to handle such an influx. Be sure to consider the size of your system before implementing.
Understanding customer behavior with your CRM software may become more sophisticated too. Manufacturers are able to communicate directly with products, and therefore can better assess how and when products are being utilized and if they malfunction.
Industrial IoT Challenges
There is opportunity for enhancement by bringing in IoT, but there is also the potential for some challenges as well.
Flexibility within the workplace is a necessity when bringing IoT into the mix. Since it is still relatively new, there will likely be a learning curve associated with it.
Data security could be the biggest concern with IoT. As IoT offers manufacturers more data, it also opens the door for more data to be breached (especially with mobile devices and wearable technology). Thus, IoT users will need to find a way to secure large amounts of data.
The cost associated with adding the Internet of Things will likely be a major initial investment (new equipment, updated software, revamping business processes and workflow, plus knowledge development and training), and it may just not be feasible right now for smaller or cash-strapped companies.
Despite these challenges and considerations, the Internet of Things is not going away. IoT is going to remain a critical factor in the future of manufacturing. If you are considering tapping into its immense potential, the best place to start is reviewing your specific needs and available resources, weighing the pros and cons, and deciding what solution will be the best fit for your business.
IoT is a new frontier for manufacturing technology. Let us be your Guide.
Want to learn more about your IoT readiness or get started with Infor solutions? Contact Guide Technologies. We are an Infor Gold Channel Partner with over 20 years of  industry experience helping manufacturers find, implement, and optimize software solutions to grow and improve their business.