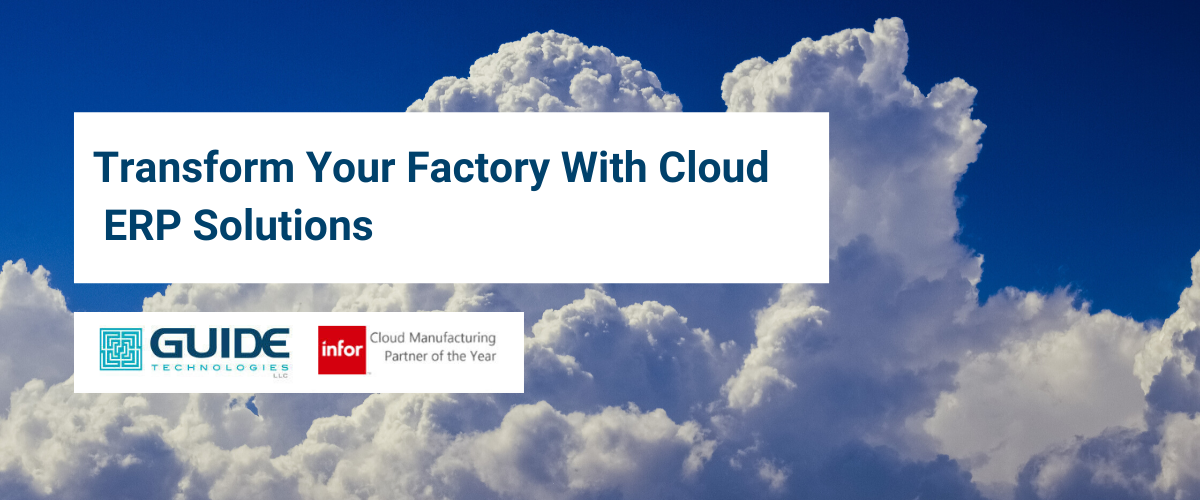 November 08, 2019
Transform Your Factory with Cloud ERP Solutions
Digital Transformation — Delivered in the Cloud
Cloud ERP solutions can help open up a world of opportunity for your manufacturing business. Cloud software makes it easier and more cost-effective for factories to take advantage of a broad range of innovative technologies, from advanced AI and machine learning to predictive business and manufacturing analytics. Cloud solutions can help dramatically simplify your IT infrastructure, lower your total cost of ownership, and build a technology platform with the flexibility and scalability to equip your business for future success.
Cloud Solutions Help to Simplify Manufacturing IT
Cloud technologies can offer your business a degree of agility and path to rapid growth that simply wasn't possible in the past. By delegating IT infrastructure responsibilities to the cloud, you can avoid many technical distractions and stay focused on offering to-quality, innovative products and better serving your customers. With cloud technology, manufacturers require minimal IT staff at any new location and no remote data servers. As long as you have internet service, you have what you need to do business.
Cloud Solutions Make Manufacturers More Flexible
Many manufacturers take advantage of the cloud to improve how they interact with customers. Some customer experience improvements enabled by cloud solutions might include better delivery options, personalization, more flexible pricing and ordering processes, and more. Your automated processes can be hosted, managed, and expanded readily through cloud services, giving your business more flexibility than you may even realize.
Achieve Digital Transformation in Manufacturing with Infor CloudSuite Industrial
Infor® CloudSuite™ Industrial (SyteLine) is a robust enterprise resource planning (ERP) cloud solution specifically designed to help industrial manufacturers improve productivity using manufacturing best practices and highly efficient process flows. The value of Infor CloudSuite manufacturing solutions can be summed up in one word: simplicity. With Infor CloudSuite Industrial you can easily:
Adapt
Manage seasonal demand fluctuations for storage and computing needs by expanding and contracting capacity as needed, paying only for what you use
Streamline
Reduce the complexity of your existing deployment landscape and decrease the burden on IT resources
Innovate
Keep your systems up-to-date and more easily take advantage of innovative new technologies
Grow
Manage growth and change effectively with a high degree of scalability
Capitalize
Explore options for structuring technology investments as operating expenses, rather than capital expenses
Unlock Your Full Potential
If you would like to find out more about Infor CloudSuite manufacturing solutions and their extensive capabilities, the best place to start is a phone call with an expert from Infor's Cloud Manufacturing Partner of the Year, Guide Technologies. We'll listen to your needs and provide relevant information to answer your questions about Infor solutions. Give us a call and start your digital transformation today!