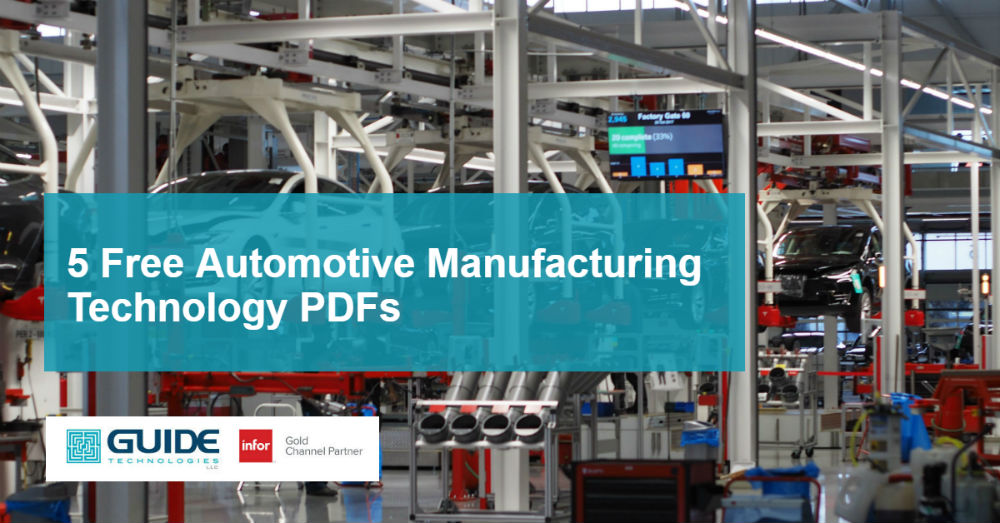 November 08, 2018
Technology Tips for Automotive Manufacturers: 5 Free PDFs
A new digital revolution is transforming the global automotive manufacturing industry. Are you ready for the factory of the future?
As markets evolve and IT advances, new challenges are forcing auto manufacturers to rethink how they do business. In many cases, legacy solutions and business processes simply don't work for the industry of today, let alone tomorrow. How can companies not just keep up with new demands, but get ahead in the face of so much change?
The answer is technology. By harnessing the capabilities of new technologies like Internet of Things, artificial intelligence, machine learning, cloud computing, Big Data, technology is the key to unlocking your full potential, analyzing past and present results, and predicting future needs and challenges before they arise.
To help you understand the full scope of today's auto manufacturing software solutions and their game-changing capabilities, Guide Technologies has put together a free collection of 5 industry-specific PDF resources that are a true must-read for auto manufacturers. The collection includes a little something for everyone, from operations and finance to business intelligence, regulatory compliance, and of course, IT.
Your Automotive Manufacturing Technology PDF Bundle Includes:
5 Ways Your IT Infrastructure Can Help Address Your Biggest Operational Headaches
4 Ways to Better Manage Complex BOMs to Drive Productivity
5 Compelling Reasons to Move to the Cloud
10 Ways to Make Analytics More Useful and Consumable
Industry Perspective: Speed of Change in Auto Can Imperil Regulatory Compliance
Grow With Guide
Guide Technologies is an Infor® Gold Channel Partner with decades of auto manufacturing and technology experience. Contact us to start your ERP journey today.