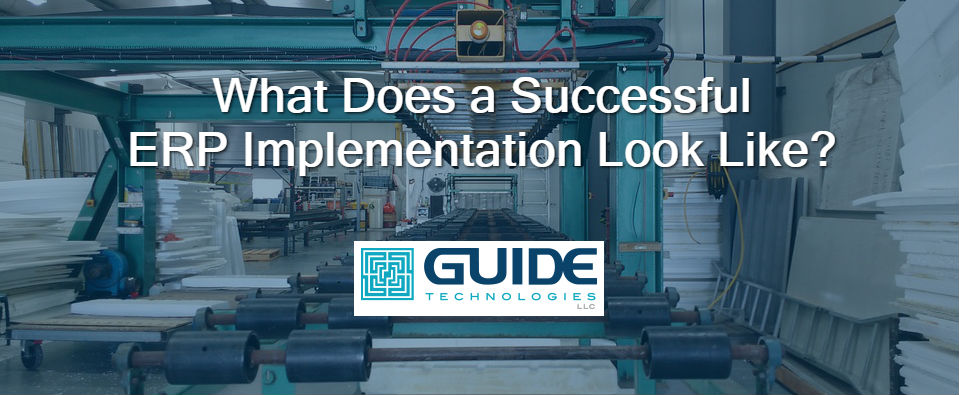 May 20, 2018
What Does a Successful ERP Implementation Look Like?
There is a certain "calm before the storm" effect than can happen after choosing an ERP system, or any major solution purchase for that matter. After months of discussing requirements, researching information, and evaluating options, making the decision can feel like a final victory, but in reality, it is only the first step in a rather long journey. Before you can bask in the benefits of your good decision, you must first go through the ERP implementation process.
Knowing what to expect can help you avoid the uncomfortable, "What's next?" feeling many companies experience. We've put together a handy phase-by-phase guide that outlines what a successful ERP implementation looks like.
Phase 1 – Discovery
The project kicks off with a project planning and organization meeting. This meeting should cover some operational review and risk assessment in addition to defining needs, goals, responsibilities, and timelines. If you are working with an implementation partner, a project charter and project definition documents will be reviewed and agreed upon during Discovery.
Phase 2 – Solution Design
With all objectives and requirements well-defined, the project then moves into Solution Design. This is where your goals and objectives get aligned with the technical solution and business processes are mapped out. This phase involves detailing each expected business benefit and how to achieve it in the shortest possible time. Initial environment setup will happen in the design phase, along with a lot of focus on education, solution definition, and business case modeling to make sure all needs are addressed and impacts are properly assessed.
Phase 3 – Build
Next you will enter the Build phase, where everything is prepped for deployment.  This includes activities like developing and testing a cutover plan; documenting solutions and processes; data mapping and conversion; and lots and lots of testing.
Phase 4 – Deploy
All the planning and preparation will be rewarded during the Deployment stage, when the new system finally goes live. This phase should involve pilot tests, final execution of the cutover plan, and ensuring a smooth transition. It will also include end user training so your staff knows exactly how to perform their jobs using the new system.
Phase 5 – Support
There is much more to the final phase of ERP implementation than monitoring performance, supporting and coaching users, and putting out fires as they flare up. It is also important to properly close out the project with a thorough review? Are all needs met by the new system? Were objectives sufficiently met? Did everything stay on-schedule and on-budget? What future phases will be needed in the coming weeks, months, and beyond?
Even with a handy guide, ERP implementation is going to require a great deal of knowledge and experience. Quite frankly, ERP is too mission-critical and impacts too many business areas to risk getting it wrong. It might be a very detailed and challenging process, but it doesn't have to a painful one. Working with a seasoned business partner who has hands-on experience and decades of accumulated expertise can help ensure a successful implementation.
Guide Technologies has decades of knowledge and experience with a 95% on-time, on-budget implementation track record of success. Contact us for a consultation or click here to learn more about our proven Implementation Intelligence 5 (I25) methodology.