The power of Service Management
These days, it's not enough just to be more proactive in tracking and managing the performance of your service and maintenance organization efficiently. You need to create a fully-connected service organization that drives value across your entire enterprise.
---
Service Management can help. Equipment-related service and maintenance organizations looking to balance customer satisfaction, resource utilization, and profitability get the only total aftermarket service solution that delivers fully integrated, robust, and scalable automated field service management. You'll quickly adapt to continuing change and extend the benefits of automated field service operations to your entire organization—in the office or out in the field.
Infor Service Management is the deepest, most industry-specific service management solution on the market today. It helps service-centered industries deliver better equipment service, resolve problems faster, and manage the entire service process more efficiently.
The Infor Service Management advantage

Infor Service Management customers gain speed, breadth, and quality of service, as well as the ability to:
Resist attacks by competitors by developing a highly responsive, information-driven service organization that leads to trusting, long term customer relationships.
Fine-tune information systems on the fly to solve day-to-day business challenges quickly and efficiently.
Rapidly adjust schedules as new orders arrive, to deliver services on time, without interruption.
Empower your field technicians via mobile access to information to deliver the highest levels of customer service possible.
Resources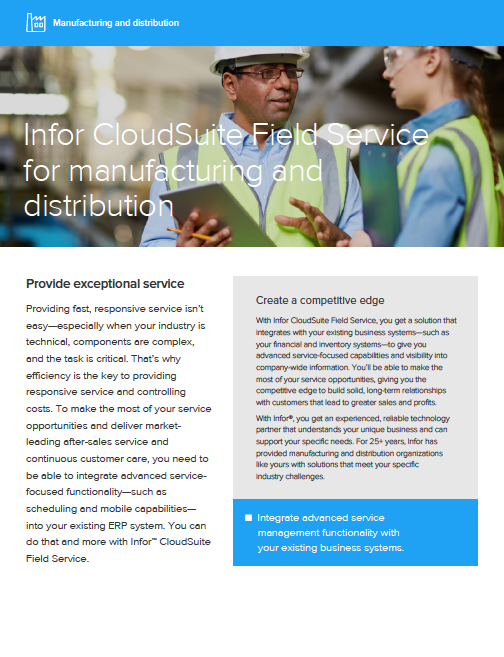 Infor CloudSuite Field Service integrates with your existing business systems to give you advanced service-focused capabilities and visibility into company-wide business intelligence.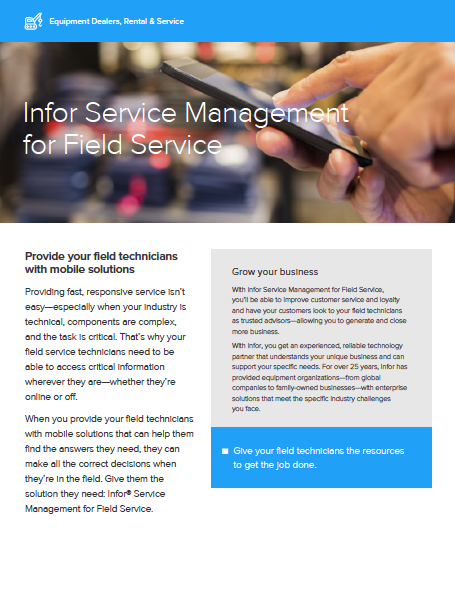 With Infor Service Management for Field Service, you'll be able to improve customer service and loyalty and have your customers look to your field technicians...

Your challenges are our motivation.
At Guide Technologies our mission is to provide manufacturers solutions to their business challenges. We do so with industry
recognized Infor software and our unparalleled consulting expertise. Find out why we are the partner of choice for 250+
manufacturers, just like you.