Overview

What it Means

What it Does
Maximize the Value of Your Investment
Infor LN is the most powerful and comprehensive system available for managing the demands of complex, global operations. It has proven itself in a wide variety of engineering-based industries—including automotive, equipment, high tech and electronics, and aerospace and defense. It is the only full-featured manufacturing solution that completely and simultaneously supports all of the production processes commonly found in modern manufacturing—from engineer-to-order to repetitive.
---
With industry-specific capabilities that embody best practices for managing the intricate demands of industrial manufacturing, Infor LN gives you control over every aspect of your operation, from design through to delivery, and beyond. By giving you the ability to fine-tune your business process quickly and easily to stay ready for every change you encounter, Infor LN helps you adjust to disruptions in the business world without disrupting your business.
---
Infor LN is a uniquely powerful ERP solution for complex manufacturing, optimized for distributed global operations and equipped with the tools to improve operational performance in your manufacturing plants, across your supply chain, and throughout your aftermarket service business.
The result of more than 25 years of manufacturing experience, Infor LN is trusted by thousands of businesses worldwide, from mid-size companies to Fortune 500 enterprises. The only ERP solution that can run on any major database, hardware platform, or operating system, Infor LN gives you maximum flexibility in how you choose to deploy, implement, and operate your manufacturing operations.
Infor LN helps you:
Increase responsiveness and reduce costs.
Integrate project management across your enterprise.
Predict financial results with confidence.
Expand your service management capabilities.
With Infor LN you get help with multi-site, multi-company transaction management, planning, and shared services support, as well as localizations for 48 countries and support for 21 languages.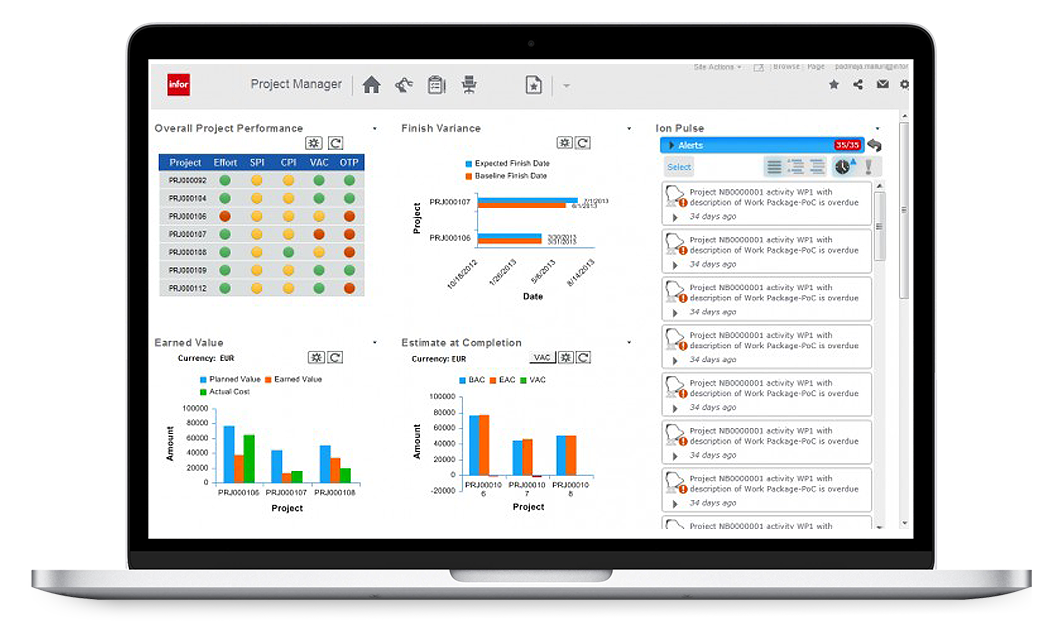 Resources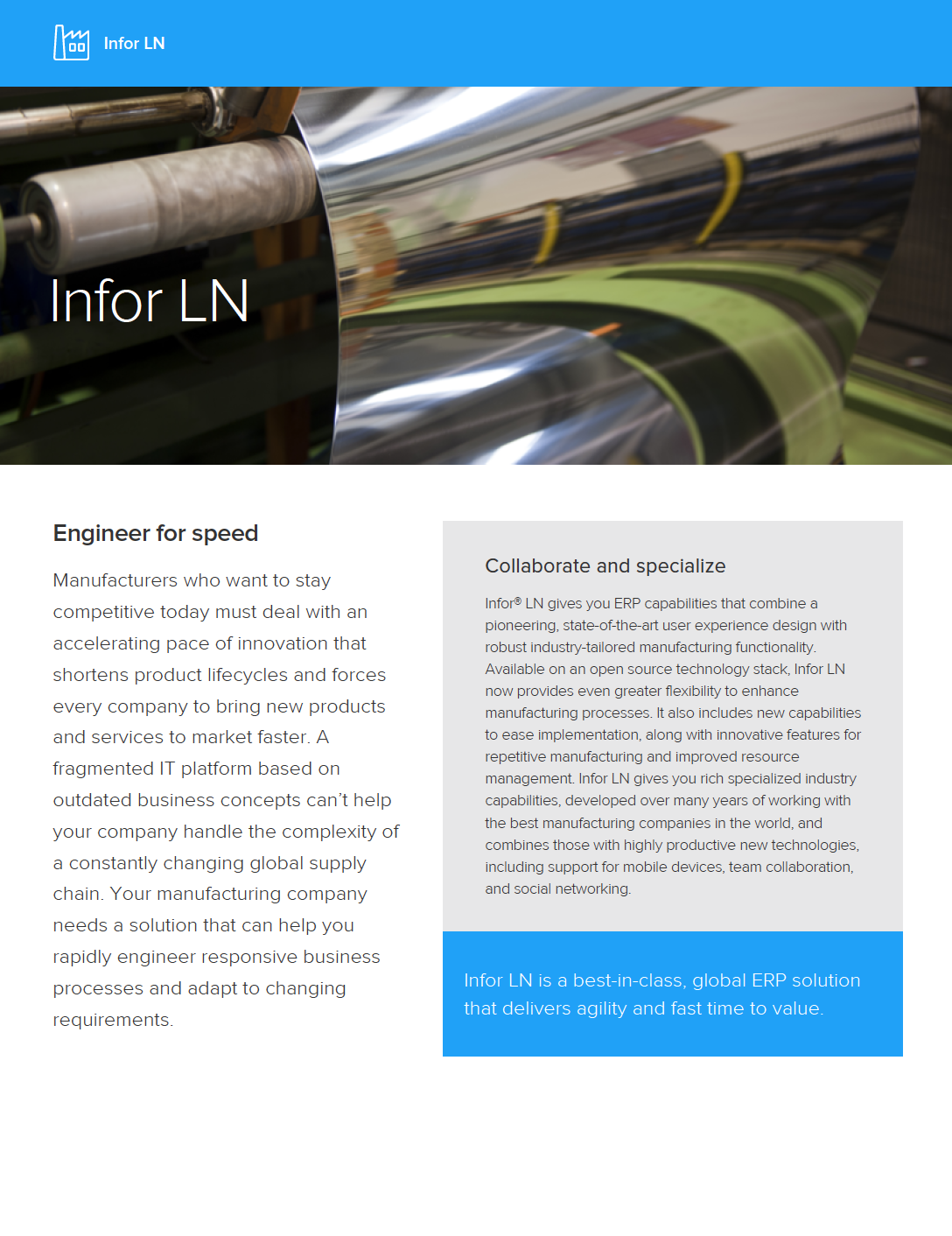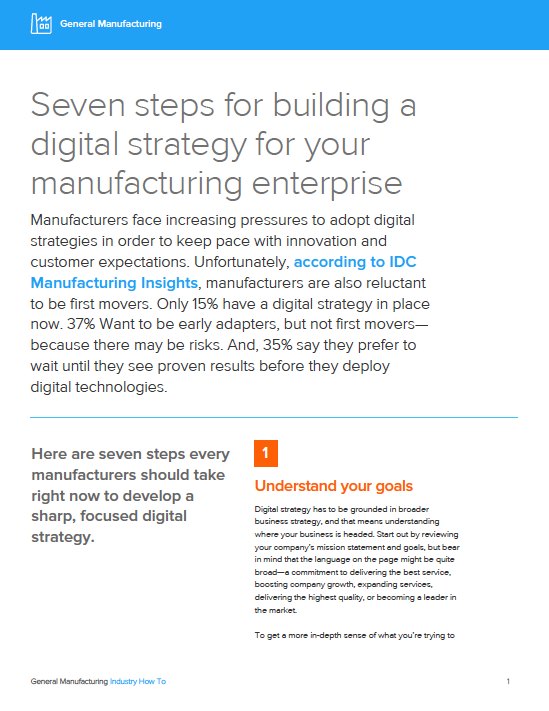 Manufacturers face increasing pressures to adopt digital strategies in order to keep pace with innovation and customer expectations. Here are seven steps every manufacturer should...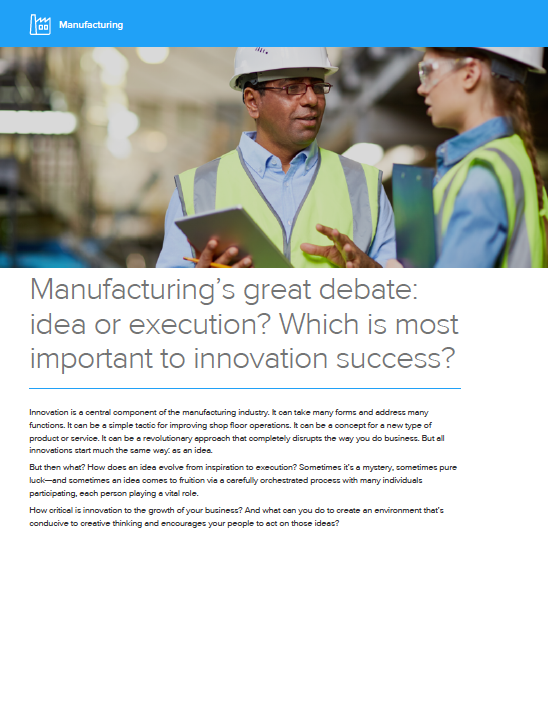 How critical is innovation to the growth of your business? And what can you do to create an environment that's conducive to creative thinking and...
Infor LN helps your company improve operational excellence and respond to change because:
You'll have company-wide visibility into finance, operations, inventory, and capacity.
You'll make more efficient use of your material and production resources, turning capacity into capability to deliver.
You'll reduce your design-to-deliver cycle time and bring new products to market more profitably.
You'll identify and react more quickly to changes in your supply chain and take advantage of opportunities to grow revenue.
You'll offer better visibility to your suppliers, who will in turn improve their delivery performance to you.
You'll have maximum flexibility to change manufacturing methods to suit your business.
Infor LN is designed to help you master the complexities of every phase of your manufacturing business, including design, supply chain, production, and service. You'll have the flexibility to change as much as you need to without compromises. And you'll be backed by an organization that is as dedicated to manufacturing as you are.
Core features:
Sequenced assembly for suppliers
Production sequence scheduling
Line side labeling
Kanban calculations
Retro billing
Allow partial self-billed invoices to be matched
Alloy surcharges
Direct deliveries
Packing information for ship notice
Master pack—scan to receive
Rounding call-off quantities
Combining planned warehouse orders
Combining shipment line items
Push reports for Infor Reporting
Handling units—reference number on single container level
US DD250 reporting
BOM costing breaks
Borrow/loan/payback
Supplier staged payments
Purchase schedule cost pegging
Purchase order price types
Program and project reporting
e-Invoicing (multiple countries)
LN Multi-books (GFC)
Multi-currency expansion in single logistic company
Multi-site modeling workbench
Revenue vs. funding analysis
6 new Content Packs (alerts, workflows, in-context BI)
Industry-specific labeling
Purge and archive modeler
User defined data flied—user selection for BODs and reporting
BOD event modeler
MariaDG performance improvements
HTML 5 (replace Java Swing)
SoHo Experience adoption and session re-modeling
Infor LN helps you drive efficiency and innovation, while improving visibility and control across your global operations. The result of years of development investment and focus on core industries, Infor LN delivers the deepest industry functionality available, including sophisticated capabilities you simply won't find in other solutions, including:
Manufacturing control to increase operational efficiency and respond to market changes
Enterprise and supply chain planning to create lean, demand-driven supply networks
Global financial management to predict financial results with confidence
Customer relationship management to maximize your market opportunity
Sales and configuration order management to meet individual customer demands
Sourcing and procurement to control inventory and optimize resource utilization
Project management to provide powerful project and activity management
Quality management to give you control, consistency, and predictability
Service management to help you become a service-centric business
Engineering data management to manage information from design through manufacture
Dynamic enterprise modeling to improve business productivity, customer service, and manufacturing productivity
As a result, you need fewer modifications to get more control and clearer information to make better decisions.  Infor LN also offers new technologies that transform your user experience for greater productivity and connectivity. You get software that's easier to use on the frontend, with faster, smarter connections on the back end, including:
Innovative social business features for a personalized, high productivity user experience
Cutting edge mobile capabilities to give you up-to-the-minute status on your operations anywhere, anytime
Infor ION to connect Infor LN to all other systems in your infrastructure
Visibility and control over your global operations
Flexible architecture so that you can define (and re-define) your processes

Your challenges are our motivation.
At Guide Technologies our mission is to provide manufacturers solutions to their business challenges. We do so with industry recognized Infor software and our unparalleled consulting expertise. Find out why we are the partner of choice for 250+ manufacturers, just like you.