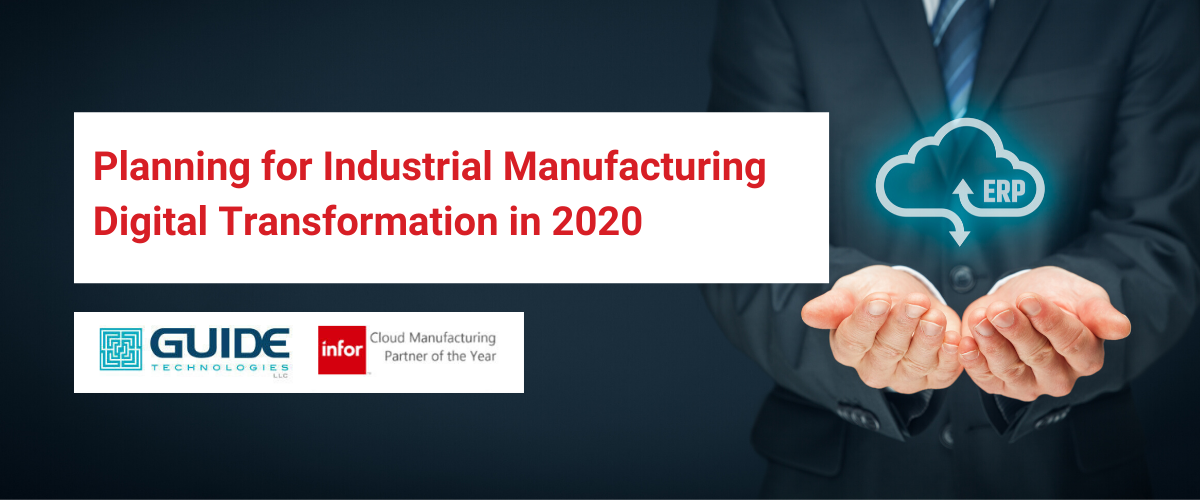 December 23, 2019
Planning for Industrial Manufacturing Digital Transformation in 2020
ERP is a useful solution that helps manufacturers project their future financial, operational, and production plans. Here at Guide Technologies, we're doing some predicting of our own to help you plan your industrial manufacturing digital transformation in the coming year. Here is our forecast of what lies ahead for cloud ERP in 2020.
1. Cloud Control: Deriving More Value from Manufacturing ERP
The data is in. ERP improves processes in 95% of the businesses that implement it, which makes it an absolute must-have for digital transformation. The question of whether to use ERP in industrial manufacturing has shifted to which one and how to maximize results. The answer for many is the cloud.
Besides situations involving limited internet access or specific industry regulations that require on-premise solutions, the cloud is winning the ERP deployment and hosting war. For many manufacturers the decision between cloud, SaaS, on-prem, or hybrid ERP comes down to cutting IT expenditures – where the cloud simply can't be beat. More manufacturers, especially small and mid-sized enterprises, are poised to adopt cloud ERP solutions in 2020. Statistical trends point to continued growth for cloud ERP well into the new decade.
2. Flexibility First: Manufacturers Adapt to the Culture of the Cloud
One of the greatest benefits of cloud ERP is the continual change and improvement over time. One of the greatest challenges of cloud ERP is keeping up. In an environment of constant change, flexibility is a necessary asset.
Manufacturers need to be ready to accommodate updates and make use of enhancements as they become available over time. This will require greater flexibility from staff, a new approach to training, and process design, and an ongoing strategy for integrating new features. A strong manufacturing ERP consulting partner can help tremendously here.
3. Cloud ERP Gets Personal(ized)
Infor® has always been at the forefront of industry solutions, offering cloud ERP software products that are finely tuned to an incredible wide range of vertical markets and horizontal business needs. This year will likely see things pushed even further into the realm of true personalization. As cloud ERP takes the lead, Gen Z enters the workforce (yes, already) and Baby Boomers retire in droves, the push to modernize the enterprise application user interface will grow stronger.
Instead of a "perfectly tailored 3-piece suit", users are looking for their "Little Black Dress". Something that still fits them like a glove but much simpler and able to be personalized for their own style and occasion without a lot of fuss. Something smart, adaptable, and flexible.
Thanks to the powerful combo of cloud software and artificial intelligence, we will begin to see greater personalization within user interfaces on both the back office and customer facing sides of ERP solutions.
4. Renewed Focus on Customer Experience
95% of companies that invest in ERP report process improvement after implementation. This is an incredible rate of success. However, many of these same companies also report falling short of their goals and expectations. The leading culprit has been identified, and it's in the back office.
Companies tend to swing heavily on back-office functions during initial ERP implementation, focusing on areas like accounting and HR. While those are very important areas of your business and a natural place to start, they are not typically big revenue, productivity, and efficiency drivers.
The greatest impact of your digital transformation comes from streamlining the actual manufacturing process and improving customer experiences. Watch for more emphasis on these areas from all sides of the ERP industry in 2020 as manufacturers seek to reach their full potential.
5. IoT Runs for MVP
ERP has come a long way from its early days as a tool for helping large manufacturing companies manage their raw materials and parts. ERP today includes many of the most advanced technologies to drive efficiencies. One of the most powerful tools in the modern technology toolbox is the Internet of Things (IoT), and we expect to see big strides in the IoT and ERP space this year.
IoT is powerful for manufacturers because it facilitates the integration of more data from more sources into the ERP. IoT gives you real time insights into manufacturing equipment, supply chains, production lines, shipping, and field operations. It is the link between your shop floor and your back office.
Not only is this data valuable in the moment for catching and correcting issues on the spot, but it drives the AI, data analysis and business intelligence that help you predict and plan for the future. Manufacturers can also help to improve customer experiences and make support interactions as efficient as possible by integrating IoT into the very products they make.
6. AI Finds Its Voice in Industrial Manufacturing
Another cutting-edge tool that manufacturers can expect to see more from in cloud ERP this year is Artificial Intelligence (AI). Imagine making decisions with the help of an AI-based personal voice assistant that runs instant in-depth analyses based on real-time data from your cloud ERP. Not just data from a few reports, but from all up and down the supply chain, across the entire enterprise, from external sources, and yes, even from the future itself thanks to predictive analytics.
This kind of automatic analysis and instant insight can help managers identify problems, irregularities, and inefficiencies on the spot. It can help you plan maintenance and production schedules and make informed manufacturing decisions with ease. Done manually, this type of analysis would require significantly more time and resources.
7. ERP Data Becomes Actionable
The 2010s were all about getting the data together and into the cloud. The 2020s are all about vision. What relevant information can you see in all this data and how does the knowledge you're gaining impact your digital transformation strategy?
This year we expect to see the tides turn from collecting data and making predictions to setting goals and making plans. Look out for more solutions that start with desired results and run the numbers backward to map out how to get there. The data is in, and it's ready to work and help you maximize your cloud ERP investment.
8. 5G Helps Cloud ERP Go Mobile
Will 2020 be the year mobile puts cloud ERP on the spot? With 5G wireless getting the big rollout in 2020 and mobile devices becoming ever more ingrained in our daily lives, it sure looks that way. Watch for new developments from solution vendors and increase adoption of ERP mobile apps by industrial manufacturers this year for both back-end and front-end activities.
The value of cloud ERP mobile apps will be felt throughout the manufacturing enterprise, but especially in production. Workers, managers, and supervisors alike will be able to instantly communicate, report issues, look up information, and fix problems on the spot from the palm of their hand. Can you think of a better way to stop problems in their tracks?
5G is a critical component because it will greatly reduce latency in communication between mobile devices and the cloud. This instant communication paves the way for more autonomous industrial equipment, manufacturing tools, and drones – not to mention the self-driving vehicles we've all been dreaming of since The Jetsons. Consider the safety and efficiency improvements a perfect, real-time communication system could bring to the manufacturing shop floor or warehouse.
This is the future for mobility in cloud ERP and we can't wait to watch it take flight this year.
Looking Forward to Continued Growth in Cloud ERP
Implementing technologies that support innovation and a better customer experience are important to your business strategy. Technologies that support companies in seizing opportunities and adapting to these implementations should be greatly valued. Industry leaders who have implemented enterprise solutions and are hungry to maximize their cloud ERP investment will edge out competitors with the help of cutting-edge technologies like IoT, AI, machine learning, natural language processing, predictive analytics and business intelligence.
Cloud ERP is on the rise and still has a long way to go. The growth outlook is up, up, and up for the foreseeable future. We'll be here to Guide you through it and help you complete your industrial manufacturing digital transformation.