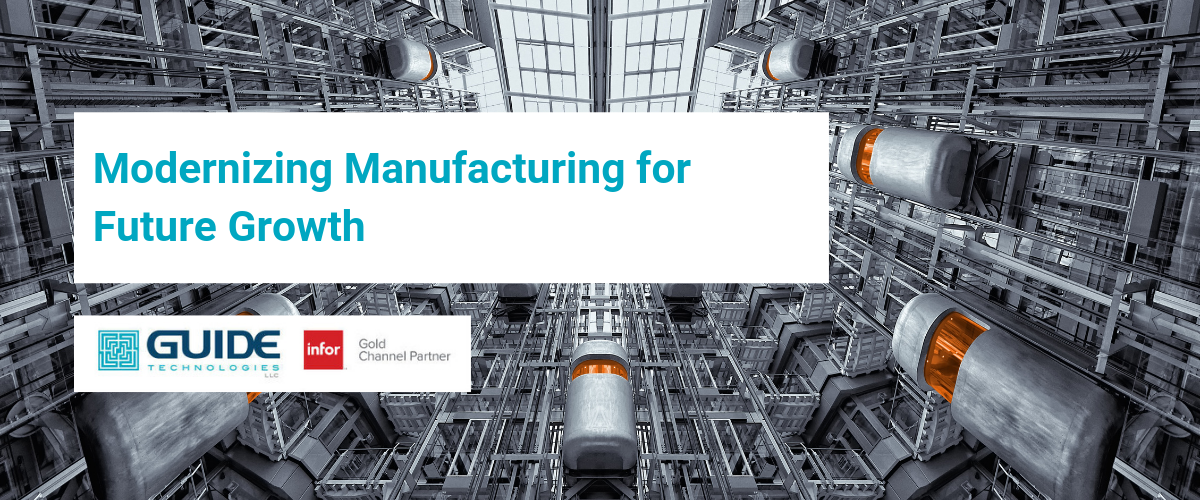 September 05, 2019
Modernizing Manufacturing for Future Growth
MFGs are on a mission: Modernize. Extend. Accelerate.
The time to modernize your manufacturing company is now. Industry 4.0 and the Factory of the Future demand it. This means finally putting your manufacturing process and technology problems to rest.
Processes and technology - two things that should help to simplify and enable manufacturing - too often get in the way of productivity and progress. That's because process and technology both evolve rapidly and tend to fall out of date fast, but are often deeply entrenched in the business and therefore slow to change. How much are outdated processes, legacy technologies, poor visibility into the supply chain, and missed insights costing your business?
The Meaning of Modernization
Most manufacturers' modernization efforts address the use of technology to drive business forward in three key areas.
Production
The technology used to transform raw materials into finished products. This can include cutting-edge robotics, tools, 3D printing, chemicals, and methodologies like LEAN, Kaizen, Six Sigma, and Lean Six Sigma manufacturing process frameworks. These technologies impact not only the quality and features of the final product, but the efficiency and profitability of the production process.
Data
How do use technology to compile, control and utilize data across the enterprise, supply chain and customer life cycle? This aspect of modernization involves ERP, cloud solutions, data collection and sharing, business intelligence, smart workflows, back-office automation, and more digital initiatives aimed at both managing data and leveraging it to make operations more productive and accurate.
Automation
Modernization also reaches into the utilization of machines and human workers within your processes. How much work can be programmed and either completely or softly automated throughout your processes? This area involves a lot of new and complex technologies like artificial intelligence, machine learning, predictive analytics, and IoT.
Letting Go of the Legacy
The scary truth is, these days you don't have to be using ancient paper-based processes to be well behind the curve. Even companies that use ERP systems can still struggle with lack of visibility into manufacturing processes, lack of trust in the data, increased downtime, and rising costs. Today's outdated technology and processes look a lot like yesterday's cutting-edge innovations - because they are.
The goal post has moved and it's not enough to simply recreate old processes in a digital environment anymore. The way to properly resolve process and technology challenges today is to let go of legacy software and move forward with a truly modern cloud manufacturing solution.
Manufacturers Modernize with Infor CloudSuite
Infor® CloudSuite™ gives your business modernized technology to enable future growth. Less hassle, more value, and true business agility. That's the bottom line. CloudSuite solutions can help you:
Modernize!
Get a clearly defined project scope and complete program for moving to a modernized platform
Speed deployment with implementation accelerators and pre-built industry platforms
Reduce uncertainty with transparent pricing; SaaS based, per-user per-month
Scale up or down to meet changing needs
Get support for hybrid deployments, including Infor and third-party solutions
Extend!
Take advantage of extension solutions that integrate with existing systems and increase the value of your technology
Easily connect to existing third-party hubs, such as SAP or Oracle, with pre-built integrations
Integrate relevant data, KPIs, and reports to get a comprehensive review of your business
Extend the capabilities of your solutions with a growing number of mobile-enabled offerings
Accelerate!
Keep your technology up-to-date and performing at optimal levels with automatic upgrades
Get comprehensive, industry-driven suites that deliver the capabilities you need, right out of the box
Provide a modernized, consistent user interface across all of your applications
Increase response times and productivity with dynamic workflows
Improve decision-making with embedded, pervasive industry analytics
Your Guide to Modernization in Manufacturing
Does modernization feel more like a myth than an achievable goal? Wondering how much time or budget it will take to implement a modern manufacturing ERP solution for your organization? Most manufacturers face similar challenges. Guide Technologies can help you understand what it will take to modernize and streamline your business, help you find solutions that fit your needs, and navigate the complexities of solution design and implementation. You're not alone in this. We'll be your guide.