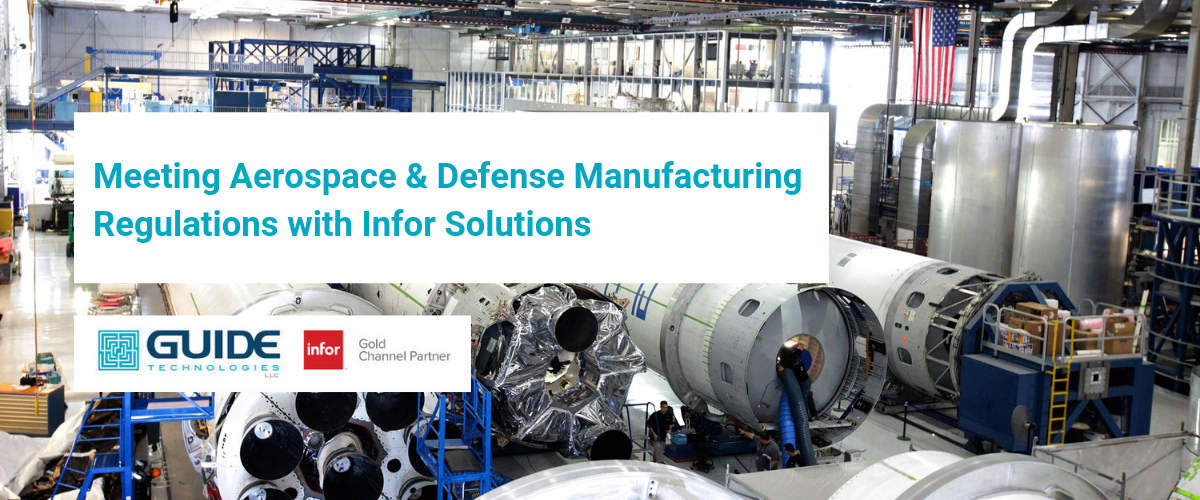 August 06, 2019
Meeting Aerospace & Defense Manufacturing Regulations with Infor Solutions
In A&D manufacturing, there is no margin for error.
The aerospace and defense manufacturing industry faces a multitude of compliance requirements from both the U.S. government and internal standards. Requirements cover many areas across the supply chain, including materials usage, manufacturing processes, hiring practices and many other business areas. Depending on the business, an A&D manufacturer could be in scope of regulations covering everything from product compliance and corporate responsibility to vendor management and human trafficking.
Achieving and maintaining compliance in such a heavily regulated industry is a significant challenge on its own. To further complicate things, A&D manufacturers have many additional compelling challenges to navigate, including:
Always-evolving regulatory landscape
Volatile global trade climate
Complex part & product composition
Issues integrating modern data systems with legacy solutions
Heightened need for tracking and tracing of materials, parts, products and shipments
Razor-thin budgets and detailed reporting/audit requirements
Guide Technologies understands these challenges and helps aerospace and defense manufacturers meet them head-on with Infor CloudSuite Industrial vertical solutions and implementation support services.
Infor CloudSuite™ Industrial
CloudSuite™ Industrial is a complete manufacturing ERP system that meets the complex needs of discrete manufacturers to help improve productivity in the office and on the shop floor. Infor CloudSuite Industrial solution highlights include:
Innovate faster and more efficiently
Manage production planning and scheduling
Coordinate aftermarket service and maintenance
Optimize production scheduling
Improve product quality
Built on highly flexible, scalable architecture that enables manufacturers to be agile and in-sync with fast-changing customer expectations
Infor Solutions Support Aerospace & Defense Compliance
Fact: Infor Customers Include 19 of the top 20 Aerospace Companies
Infor offers CloudSuite Industrial vertical solutions for a wide range of manufacturing industries, including Aerospace and Defense. Infor's CloudSuite Industrial A&D solution includes a host of features custom-tailored to meet the needs of this complex industry.
One area worth spotlighting is CloudSuite's features that aid compliance with International Traffic in Arms Regulations (ITAR). Violations of ITAR or Export Administration Regulations (EAR) can result in up to a $1 million fine and 20 years in prison, so this is a very important feature to look out for in any A&D ERP or enterprise manufacturing solution.
Infor CloudSuite ERP for A&D empowers manufacturers to stay in line with strict industry rules, regulations, processes, and requirements. CloudSuite allows companies to automate compliance processes, manage quality, and maintain tight control over manufacturing processes, traceability, inventory tracking, and the other regulations that are critical to compliance, efficiency, profits and quality.
Your Guide to Vertical ERP Solutions
If Infor and Guide can deliver for A&D manufacturers despite all of the industry's complexities and challenges, imagine what we can do for you. Get in touch with us to start your digital transformation journey or click below to explore more of the industries we serve: