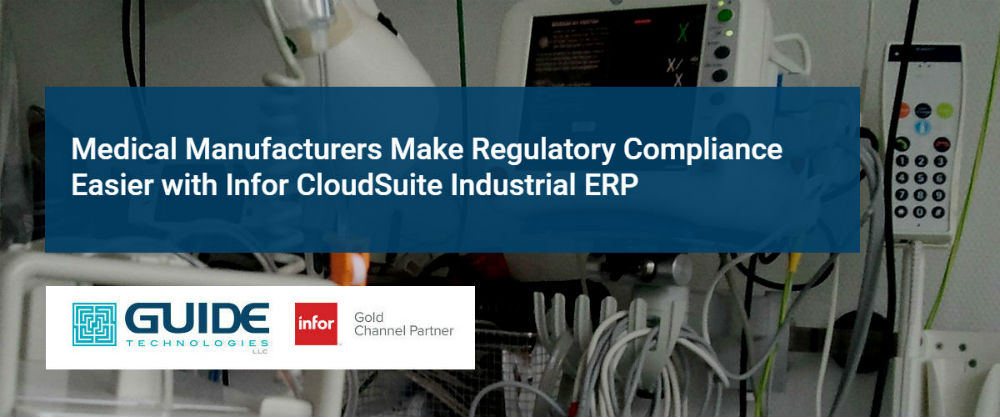 July 01, 2019
Medical Manufacturers Make Regulatory Compliance Easier with Infor CloudSuite Industrial ERP
It's no secret that healthcare is one of the most highly regulated industries — medical manufacturing included.
The abundant oversight in the medical industry makes good sense – after all, lives are literally at stake – but it puts a lot of compliance burden on businesses. The rules and regulations here stretch far beyond standards of practice for drug testing and patient care. The manufacturing of medical goods is also subject to some special regulations.
FDA cGMPs: Ensuring Quality & Protecting Consumers
Medical products made and sold in the United States must consistently meet applicable requirements and specifications set by the US Food and Drug Administration. The quality systems for FDA-regulated products are known as "current Good Manufacturing Practices", or cGMPs.
FDA cGMP regulations require that manufacturers, processors, and packagers of medical devices, pharma/biotech/nutraceutical/vitamin drug products, some food, and blood take proactive steps to ensure that their products are safe, pure, and effective. This protects consumers from purchasing products that are dangerous or ineffective. "Proactive steps" include a quality approach to manufacturing that seeks to minimize or eliminate instances of contamination, mix-ups, and errors.
Failure to comply with cGMP regulations can result in very serious consequences for medical device and process manufacturers, including recalls, seizures, fines, and even jail time.
Infor CloudSuite Industrial Features for Medical Manufacturing Compliance
Infor CloudSuite Industrial is a best-in-class industry software suite loaded with tools and features designed to make complying with rules and regulations easy. Features specific to medical manufacturers include:
FDA & cGMP Validation & Process Documentation (for passing an FDA Audit)
Batch Records & Device History Records
Customer Complaint Tracking & Quality Control
Lot/Serial Genealogy – Track & Track products & packages
Electronic Records (21 CFR Part 11)
ISO 13485 (international standards for medical device quality management systems)
As we covered in our recent blog post about finance regulations in manufacturing, CloudSuite Industrial is also built for financial compliance, a key concern for all types of businesses.
Related Reading
Increase your knowledge about medical manufacturing industries and Infor solutions with these helpful resources:
The Expertise to Help You Navigate Change & Implement ERP
With a 95% on time, on budget implementation track record, the Guide Technologies Professional Services team is staffed by experienced manufacturing and technology experts who have the skills and knowledge to deliver a successful implementation for your organization. We add significant value by helping you leverage your technology investment in the future to meet today's—and tomorrow's—business challenges. Contact us to start your digital transformation today.