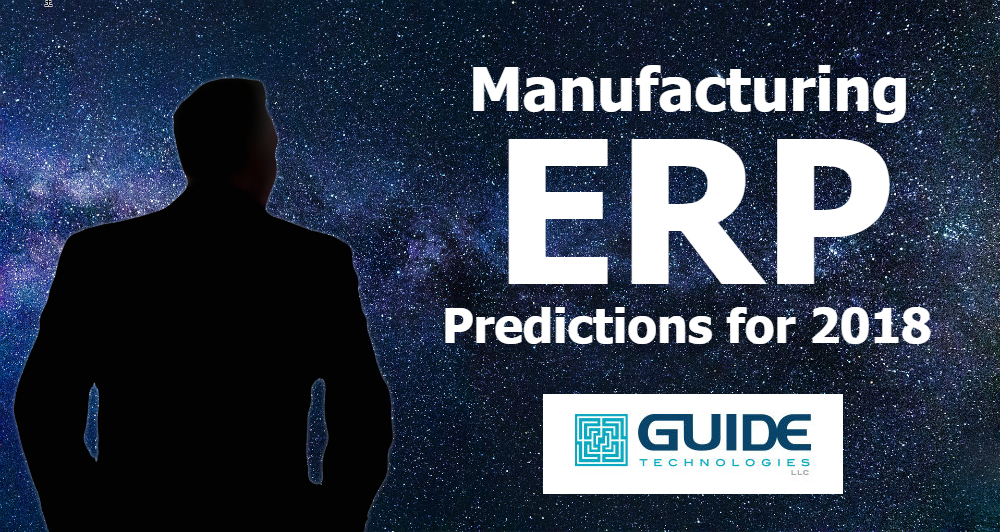 November 14, 2018
Manufacturing ERP Predictions for 2018
Looking back at the last year, 2017 will be memorable as a year when many companies using ERP systems experienced real, measurable change across a wide range of business areas. Aberdeen Group reports that 93% of enterprises with ERP solutions saw improvements in cost reduction, quality, schedules, performance, headcount, and numerous other important metrics.
Because of these results, ERP has moved up the shortlist to become a major priority for many manufacturers in 2018.
What does the future hold for manufacturers this year? The experts at Guide Technologies are predicting that the rapidly growing relationship between ERP and some exciting new technologies will be the next big thing. Let's take a closer look at some of this tech and Guide Technologies' manufacturing ERP predictions for 2018.
Cloud Is the New Normal
Time may be marching on, but all those Big Data, analytics, and other business intelligence initiatives of years past aren't going anywhere. Companies will continue using technology to increase access to and actionable insights from relevant, real-time data.
One of the most important tools for capturing, managing, analyzing, and learning from all that data is cloud technology. Deploying new and existing applications in a flexible, cost-saving, integration-friendly cloud environment will continue to be a top priority for manufacturers. Manufacturers who have not yet moved to a cloud ERP solution will likely take the leap this year, and many of them will leave their legacy ERP systems behind in the transition.
In fact, the cloud is expected to reach a key milestone this year, as Forrester predicts that half of enterprises are going to adopt a cloud-first policy in 2018.
Artificial Intelligence Goes to Work
Manufacturing CIOs are also investing big in AI this year. AI is a perfect companion to Big Data. Manufacturers produce so much data these days. AI helps make sense of all this data, optimizes operational processes to be more efficient, and drives strategic business decisions.
It also doesn't hurt that artificial intelligence is really, really cool.
AI can learn, speak, read, respond, and predict outcomes. AI solutions constantly learn to improve efficiency, reduce costs and minimize human errors. AI can handle routine tasks performed by employees, freeing them up for with more productive tasks. AI can be used to automate processes and monotonous tasks, identify pain points, and predict when technologies might fail or need maintenance. Even HR can be optimized with AI.
"Intelligent ERP" is a phrase manufacturers will hear a lot in 2018. Intelligent ERP systems incorporate a combination of AI, cloud technology, machine learning, and predictive analytics to offer much more than regular ERP systems.
If improving forecasting, workflows, product development, or user experience are high on your to-do list this year, contact Guide Technologies about making the move to intelligent ERP.
Automation Approaches Autonomy
Another big trend for 2018 will be advancements in automation with the end goal of achieving of true autonomy. Now that manufacturers have seen the impact their automation efforts are having, they are hungry for more.
Whereas recent initiatives have focused on automating repetitive tasks, streamlining processes, and enhancing business intelligence, 2018 has its sights set on alleviating the mundanity of day-to-day tasks. AI is now capable of augmenting and even completely removing human-machine interaction. This is going to have a HUGE impact at both the employee level and the organizational level. Staff time is freed up for more strategic and value-oriented activities. Resources can be redirected
Voice Activation Advances
Voice activation interfaces are skyrocketing in popularity. Amazon's Alexa devices were extremely popular gifts in the 2017 holiday season. Nearly half of new mobile apps now use voice as a primary interface. Gartner has predicted that nearly one third of web browsing sessions will be done without a screen by 2020.
Amazon recently introduced Alexa for Business, which works as a voice-activated digital office assistant. It can make calls, check calendars, manage reminders, and a whole lot more. Whatever tasks AI doesn't take off workers' hands will be done much faster and easier thanks for voice technology, freeing up even more time for initiatives that drive progress and add value.
IoT Takes Off
A major driver of Big Data in manufacturing, particularly when it comes to real-time performance data, is the Internet of Things (IoT). The IoT is the network used by machines and devices with internet functions. Gartner predicts that 20.4 billion "things" will be deployed on the IoT by 2020 – an 142% increase from 2017's 8.4 billion deployed devices.
The manufacturing industry is heavily vested IoT technology, and for good reason. A growing number of industrial systems and machinery now use IoT technology to generate and share big data relating to performance and production. This information can then be used by AI-enabled ERP solutions for deeper insight and forecasting, ultimately increasing productivity and lowering overall costs.
Manage the Change
If this seems like a whole lot of change coming at once, it most definitely is. Manufacturers are facing a very transitional year for their ERP processes and solutions. Those who boldly embrace ERP technology changes as they come will gain the most from new technologies. Once the tipping point for occurs for many of these technologies, companies that have resisted progress will be left behind.
Manufacturers in 2018 should focus on addressing the people and processes surrounding their ERP implementations. It's going to take a lot of self-analysis and strategic planning, developing new technology-driven business models and solutions, and a lot of clearing away roadblocks that might impede success.
The changes that lay ahead won't always come easy, and many companies will find it challenging to keep up. An ERP partner like Guide Technologies can be tremendously helpful when it comes to managing change in manufacturing ERP. Guide is an award-winning consulting and implementation partner for Infor, a leading multi-national enterprise software company. More than 25,000 manufacturers around the world trust Infor's CloudSuite Industrial ERP.  For us, change is constant. Let Guide Technologies help you navigate these manufacturing ERP predictions for 2018 so you can take on the changes and challenges ahead with ease.