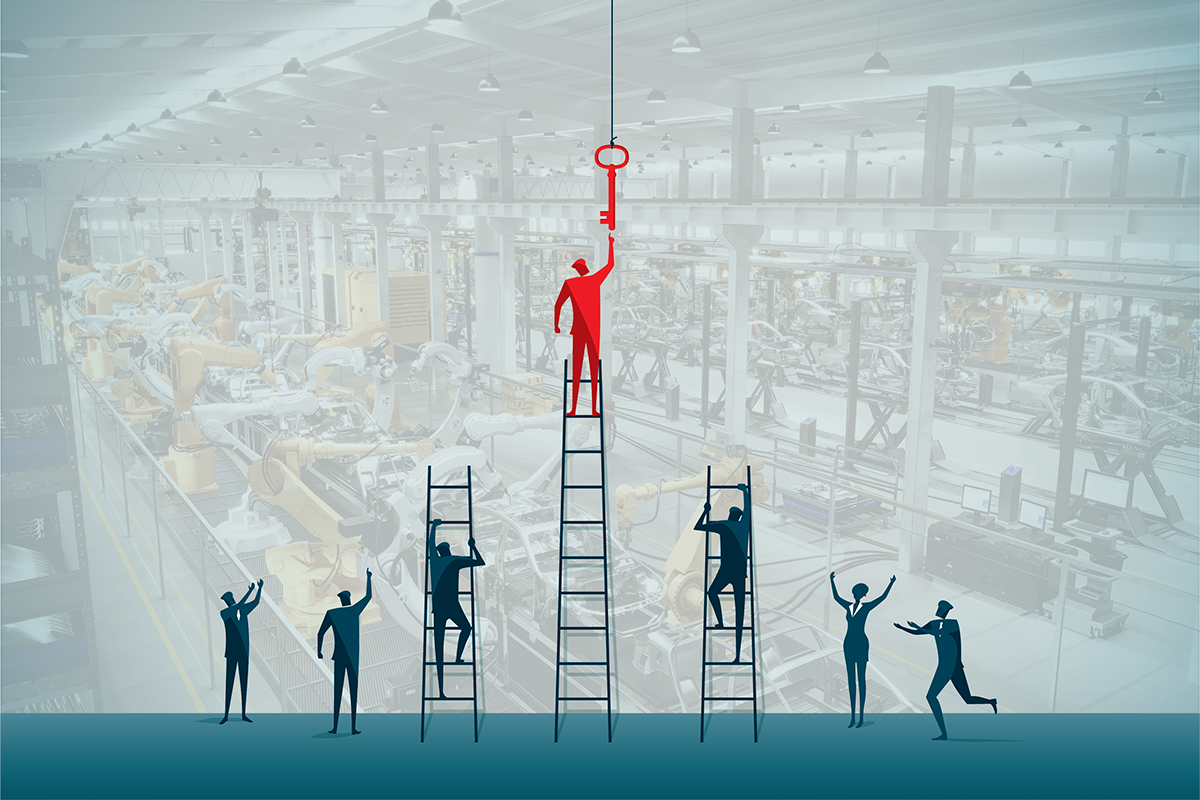 September 02, 2022
Is Your Manufacturing ERP Flexible Enough to Unlock Your Business's Full Potential?
Navigating the Brave New World of Modern Manufacturing
Modern manufacturers are operating in a brave new world of exacting customer standards, fierce competition, and unprecedented supply chain challenges. Operational agility to navigate rapidly shifting markets and meet consumer demand has never been more important. In fact, it is a requirement if you want to excel in your manufacturing vertical.
Labor shortages and supply chain disruptions continue to impact how manufacturers do business. And as new competitors enter manufacturing markets, the competition remains fierce.
With such competition, manufacturers must focus, now more than ever, on customer satisfaction. Existing customers are too valuable to lose. They have too many other options from which to choose if customer service is not exceptional.
This means manufacturers must be agile enough to meet the challenges of this brave new world and have the manufacturing technology to unlock their businesses' full potential. In order to do this, a modern and flexible ERP is required to streamline operations and provide 360-degree visibility of all business intelligence (BI)—valuable data to help guide nimble business decisions.
A Flexible Manufacturing ERP & Business Intelligence Are Invaluable
As you set out looking for ways to consistently increase efficiency, productivity, and profitability for your manufacturing operations, where do you turn? Probably to the data and reports provided by your existing ERP system. This data guides nearly every decision in your business. But is the data accurate? Or is it disjointed and acquired from multiple sources, including paper forms?
Your manufacturing ERP and its ability to capture real-time data and provide business intelligence are invaluable for navigating the brave new world of modern manufacturing. So, consider whether or not your existing ERP offers the flexibility, features, and functionality below as you consider the answer to the question: Is your manufacturing ERP flexible enough to unlock your business's full potential
Flexibility, Features & Functionality for Manufacturing Excellence
A manufacturing ERP should provide an end-to-end solution and offer these strengths and key features to successfully optimize manufacturing processes.
Industry-Focused
Every manufacturer has different needs and requirements. Your ERP should provide industry-specific functionality built in from configuration through production, delivery, and service.
Comprehensive
There are many moving parts to your business. Ensure that your ERP can gather and track data from all of them. Dependent upon user levels and roles, your business's ERP users should have access to tools and business intelligence that enable:
Sales and customer management
Human capital management
Production and shop floor management
Supply chain management
Planning and scheduling
Service management
Inventory and engineering management
Financial management
Performance management
Innovative
Cloud computing offers options and real-time agility that some on-premise solutions do not. An innovative ERP system functions on a multi-tenant cloud platform that enhances automation. A cloud-based ERP is consistently current, enabling manufacturing businesses to innovate at their own pace. It also facilitates the integration of additional applications and extensibility that may be required by your business.
In addition, its features include customized workflows and alerts, contextual business intelligence (BI), artificial intelligence (AI), and machine learning. An ERP that leverages the power of Industry 4.0 to capture data and automate processes is the innovation manufacturers need to innovate in their own business operations and achieve growth targets.
Flexible
Do you have the ability to create your own fields and forms in your current ERP system? Or are you limited by the naming conventions that are set within your current solution? The flexibility of a modern ERP allows for: the creation of custom fields and forms, the addition of unique dashboards, reports, and role-based pages, the expansion and creation of new applications, and DIY reporting and analytics.
Secure
Without business intelligence and data, any manufacturer is lost. Make sure your valuable data is protected with a cloud-based ERP that operates in a secure environment with world-class infrastructure provided by a leader in data security, such as AWS.
Running your business with a secure system operating on a cloud platform that is consistently backed up and maintained enables unprecedented security and mitigates the risk of downtime. A secure, cloud-based ERP offers global performance and scalability to guarantee the service levels your business requires.
Collaborative
Collaboration is key to improving efficiency and productivity. Does your ERP provide a unified user experience and document management and storage for easy accessibility to data? ERP users should have access to the data they need at their fingertips and the ability to easily share real-time business intelligence, reports, and analytics with other team members.
Such collaboration is further facilitated with a single source of truth that flexible and modern ERP systems offer. The ability to capture, access, and analyze data within one platform improves communication with other team members, vendors, and customers. It also reduces the likelihood of costly errors associated with multiple, disjointed sources of data and the transfer of data from disconnected systems.
Fast deployment and time to value
Still waiting to realize the value that was promised when you implemented your existing ERP? Delays in value realization often occur due to required, cost-prohibitive upgrades and optimizations that may not have been included in the initial scope of work.
Perhaps it is time to find a solution that offers fixed-price implementations, with preconfigured industry-specific business processes built in. And perhaps it is time to find a technology partner with whom you can map your ERP solution to fit your current business processes. Doing so will speed up the deployment of a new manufacturing ERP and reduce the time it takes to realize an optimal ROI for your ERP investment.
Infor CSI & Guide Technologies: A Flexible Manufacturing ERP Solution and a Trusted Infor Partner
If your answer to the question in the title of this post is 'no', then it's time to consider an ERP that is flexible enough to help your business hit growth targets for years to come. Infor CloudSuite Industrial (CSI) is a robust and flexible manufacturing ERP solution that provides businesses with the features and functionality to achieve operational agility…and excellence. In fact, Infor CSI offers everything discussed above and more.
Need a partner to help you navigate your ERP options? Guide Technologies is the trusted partner of nearly 300 businesses in over 20 manufacturing verticals, including aerospace and defense, automotive, electronics, medical device, and many more. We are also an Infor Gold Channel Partner and recipient of the Infor Manufacturing Partner of the Year award.
Our team of manufacturing and Infor product experts offer Infor implementation and consulting services that deliver measurable results. In fact, 95% of our projects are delivered on time and on budget, which is a testament to the proven implementation methodology we adhere to with every client—a methodology that results in accurate scopes of work (SOWs), timelines, milestones, and execution--from implementation and deployment to maintenance and optimization services. Contact us today to learn more about how Infor CSI and our Infor project management services can help you unlock your business's full potential.
Unlock Your Business's Full Potential with CloudSuite Industrial (CSI)
Powered by SyteLine®, an ERP solution with more than 30 years of experience supporting SMB
manufacturers, CloudSuite Industrial (CSI) is an end-to-end ERP solution for both discrete and process
manufacturers, providing predictive analytics, collaboration, lean production tools, and
integration options.
Download the brochure to learn how CSI can help unlock the full potential of your manufacturing business and drive productivity, innovation, and revenue growth.