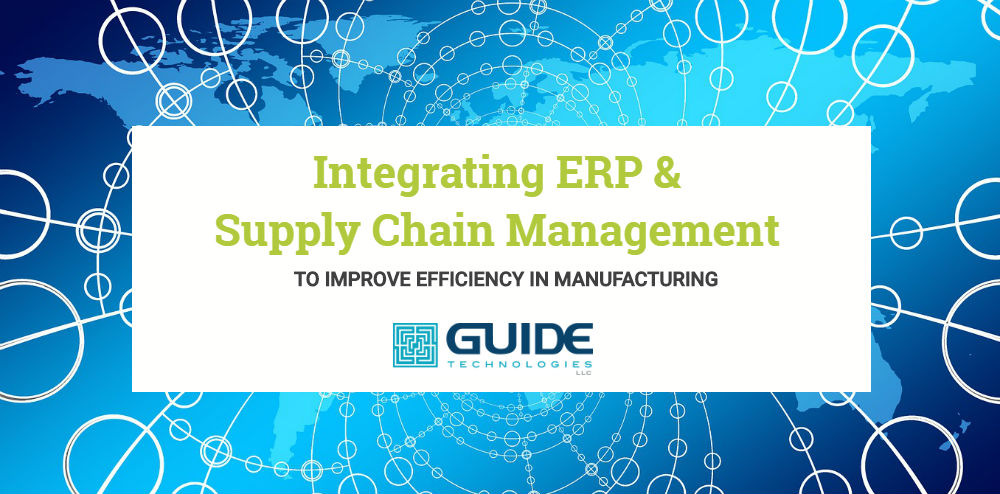 October 30, 2018
Integrating ERP With Supply Chain Management to Improve Manufacturing Efficiency
You may already recognize the benefits ERP solutions can have on your business finances, IT support, and general manufacturing operations, but there is also another business area ERP can improve:  supply chain management. Integrating ERP with supply chain management can greatly improve efficiency in manufacturing.



When managing their supply chain, businesses must interact with various partners to obtain materials and resources needed for manufacturing. They also need to coordinate with internal departments to share important information about supply and demand, processes, productivity, and efficiency. Systems that lack intra-departmental capabilities create unnecessary hurdles in an organization.

By combining ERP with supply chain management (SCM) tools, you gain real-time operational information across multiple departments. Additionally, you are able to improve efficiency, reduce costs of operations, and increase customer retention.

Integrating ERP & Supply Chain Management
Integrating an supply chain management with ERP can also help improve supply chain planning (including selecting marketing channels and determining the quantities of stock and inventory required for demand) by offering a simple and flexible way to alter the parameters within which your supply chain must operate. Since ERP systems allow visibility across platforms, handling the procurement and supply of goods and resources is made easier.




Supply chain management encompasses many elements for manufacturers, such as planning, scheduling, execution, and finance. The ability to monitor and alter supply chain activities in real-time is a key factor in its efficiency. Comparing actual activity against projected goals is made easier with ERP integration, as it organizes information across departmental platforms, so that any variances are identified and can be addressed.


The Core of Infor Supply Chain Management Is Analytics
As a result you'll have access to the tools necessary to optimize your supply chain strategies from tactical planning all the way through to execution. Advantages of Infor Supply Chain Management (Infor SCM) include helping you maximize profits; optimize your strategy from forecast to execution; analyze your supply chain, manufacturing options, and relevant constraints; and communicate more effectively with partners, suppliers, and customers.
With Infor SCM, you'll gain such advantages as:
20% higher gross margins
20% higher customer retention
15% less inventory
17% higher perfect order scores
35% shorter cash-to-cycle times
10% increase in revenue
Integrating Infor's CloudSuite Industrial (SyteLine) ERP with Supply Chain Management (Infor SCM) means you will be able to deliver your products or services to customers with greater speed, efficiency and overall quality.

Want to get started with Infor solutions? Contact Guide Technologies. We are an Infor Gold Channel Partner with over 20 years of experience helping manufacturers find, implement, and optimize software solutions to grow and improve their business.