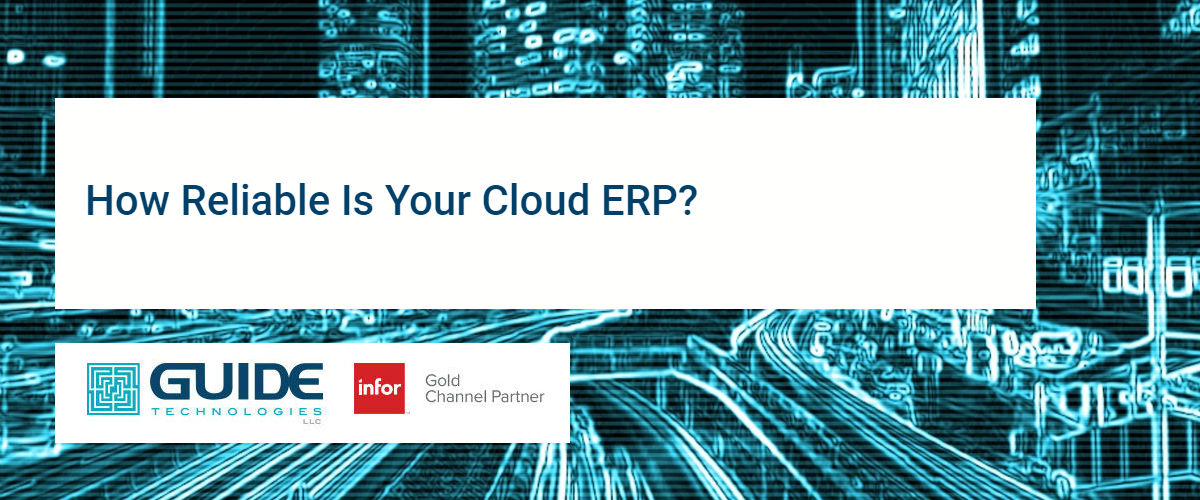 July 18, 2019
How Reliable Is Your Cloud ERP?
Infor CloudSuite Industrial ERP Offers Reliability You Can Trust
Reliability and performance are very important features of information technology. System downtime means no production, and no production means lost revenue. Some manufacturers wonder if cloud ERP solutions are safe and reliable. There's a good reason you don't hear about new and innovative on-premise ERP solutions these days. It's because software companies have moved away from this business model and are no longer investing in them. The cloud is where it's at these days, and it's more reliable than you might think.
With Infor® CloudSuite, you get guaranteed levels of server availability and system up-time that are both difficult and costly to replicate with internal resources. Hardware, licenses, and upgrades are all taken care of for you. Let's take a closer look at what makes Infor CloudSuite such a reliable ERP solution.
System Uptime
Uptime is one of, if not the most important metric for a software solution. It is a measure of how reliable and available a system is. Manufacturers need their ERP systems to be up and running as much as possible to maximize productivity and profitability.
With Infor CloudSuite Industrial you receive guaranteed levels of server availability and system uptime. Here are some of the high-performance standards delivered by Infor CloudSuite:
Available 99.9% of the time, guaranteed at 99.5%
Service level agreements covering application uptime; strong business continuity measures
Architecture designed to help support unexpected spikes in demand
Secure connectivity with encrypted internet traffic and server access
Software Performance
Simply being up and accessible is important, but it is only part of the performance equation. ERP software must also work well for the end user. Slow, laggy, click-and-wait software can bring productivity to a crawl and become a major point of frustration for workers. There is more to solution speed than responsiveness and computing processes. Automation, collaboration tools, and workflows are other areas to consider when evaluating solution performance. With technology being so important for attracting and retaining top talent (especially digitally-savvy Millennials and the up-and-coming Generation Z), companies need to consider the full impact of system performance on their organization.
Security
Another key dimension of ERP systems that is often overlooked in discussions about performance is security. Make no mistake, reliability and security are closely linked. You can think of it like a sci-fi space travel movie -- when systems go down, shields and security go down, too, leaving the enterprise vulnerable to attacks and errors. This scenario applies to your manufacturing business systems as well. Keeping all systems up and running will ensure your mission-critical data and processes remain secure and protected. Learn more about cloud ERP software features that keep your data safe and secure.
Whitepaper: Cloud Security & Your Enterprise
Disaster Recovery
It's no fun to think about, but disaster recovery is also a major concern for businesses and technology providers. Companies must be prepared if/when catastrophe strikes, especially manufacturers and distributors who provide essential goods the world needs to function and move forward. Production-halting events can come from both internal and external sources, ranging from human errors to natural and unnatural disasters. In a single moment, companies can lose it all. No matter the cause, all manufacturers need to have a plan and proper tools in place to help them prevent, prepare, and recover from a disaster.
In the case of an emergency, the main goal is to fix the problem as fast as possible and bring your systems -- and all your critical data and security solutions -- back online. Top solutions will have your systems properly secured and backed up so you can get back up to speed fast. Here's a look at Infor CloudSuite Industrial ERP's strategy for disaster recovery.
Immediate response to outages, threats, and other incidents.
Daily backups and data replication with a minimum of 14 days retention
Off-site data centers containing redundant energy, networking, and hardware that include backup generators, UPS, PDUs, HVAC, firewalls, load balancers, N++ server farms, clustered servers and storage, and double parity RAID
Get Up & Running With Infor CloudSuite & Guide Technologies
If you have other questions about Infor CloudSuite Industrial solutions or Guide Technologies' award-winning ERP consulting and implementation services, head over to our contact page and get in touch. Our manufacturing industry experts will be happy to help guide your success.