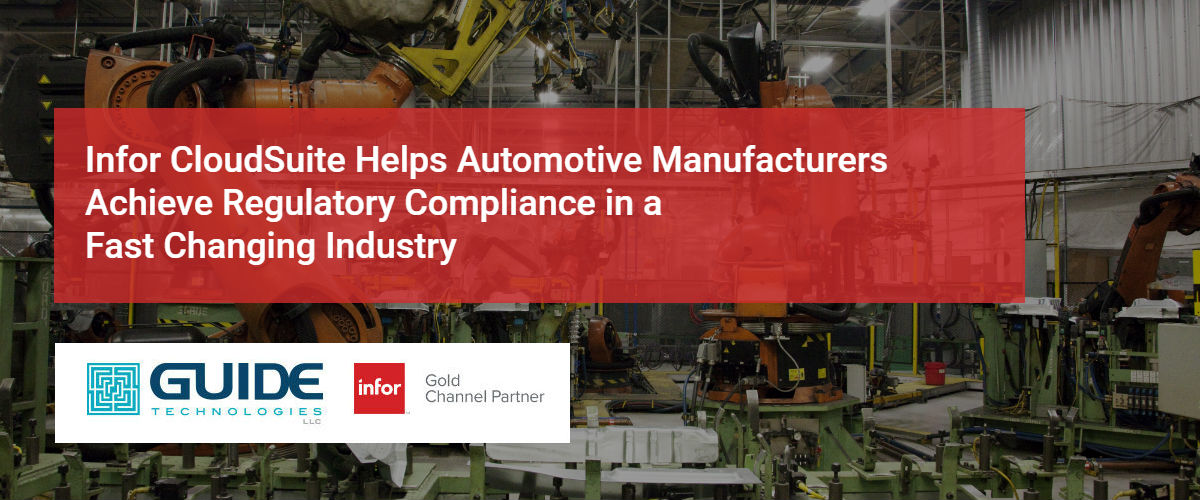 June 19, 2019
Infor CloudSuite Helps Automotive Manufacturers Achieve Regulatory Compliance in a Fast Changing Industry
The automotive industry has changed significantly over the past decade, and it's not just the vehicles that are different.
Economic and environmental challenges have changed the way vehicles must perform. New technologies like electric and autonomous vehicles and connective systems have shifted consumer demands. Less visibly, an ever-growing list of regulations and industry standards have required automotive and specialty vehicle manufacturers to alter how they do business. Companies are challenged to be competitive and cost-effective in the face of increasingly complex supply chains and growing demand for transparency.
Compliance is crucial for survival in this new age of auto manufacturing. An ERP designed for the automotive industry makes compliance much easier.
Sarbanes-Oxley Act 2002
Federal Information Security Management Act
IATF 16949
ISO/TS 16949
ISO 6346
ISO 9000
ISO 9001
ISO 9004
ISO 14001
ISO 19011
ISO 31000
ISO 45001
MMOG-7
$.C.O.R.E./$.C.O.P.E.
Free Whitepaper:  Speed of Change in Auto Can Imperil Regulatory Compliance
Meet Automotive Industry Standards with Ease
Infor® CloudSuite Industrial Automotive is a comprehensive suite of cloud-based software solutions and services built on automotive industry best practices. CloudSuite Automotive includes tools that let you manage all customer requirements and government compliance without needing additional resources.
For example, CloudSuite's powerful lot tracking capabilities let you trace parts and components, which is incredibly helpful for complying with government regulations and standards. It lets you know if your parts are defective, if your processes are up to spec, and if your customers are experiencing problems with your products. Infor CloudSuite Automotive also lets you generate and manage secure reports to submit to the relevant regulatory bodies, taking much of the administrative hassle away from compliance management.
Download the Infor CSI Automotive Brochure
With Infor® CloudSuite Industrial Automotive solutions, you can stop struggling to meet the rigorous quality standards the automotive industry requires with features that make compliance easy.
EDI Processing
CloudSuite supports many of the global automotive electronic data interchange (EDI) requirements commonly used by OEM and tier suppliers with preconfigured and ready-to-use transformation services (TFS), translation maps, and transformation via sales release management (SRM) business rule controls.
Quality Management
Coordinate advanced product quality planning compliance. Automotive industry quality programs have unique requirements. These requirements include new product development, internal/external audits, internal/external certification, APQP plans, and production part approval processes (PPAPs). Infor CloudSuite Industrial Automotive will keep you in compliance with these quality programs.
Traceability
CloudSuite Automotive's lot/serial genealogy lets you track and trace parts, products, and packages throughout the supply chain and distribution channel. Providing a complete As Built Documentation/ Device History Record is essential for traceability.
Labeling
Infor CloudSuite Automotive solutions let you plan for returnable containers management. This feature helps you to manage containers in accordance with certain automotive industry requirements by adding data fields to the automotive containers form for the definition of physical dimension and capacity. It also records certain codes and markings necessary for compliance with specific provisions of ISO 6346.
Reliable Reporting
Infor CloudSuite Industrial for the Automotive Industry provides a single, reliable source for all your reports—even when that information is drawn from multiple systems across your business. Out-of-the-box, you'll benefit from powerful, role-based reports and industry-specific business measures that have been derived from over 25 years delivering software solutions to the automotive industry.
Collaboration & Communication
With Infor® Supplier Exchange for CloudSuite Automotive, you get a web-based solution that integrates with your ERP system and supports online collaboration between every type of automotive supplier—including logistics service providers, outside processors, purchase parts suppliers, and discrete purchase order suppliers. The solution includes support for Sigma Six initiatives and is compliant with OEM communication and quality requirements such as TS 16949, MMOG-7, and $.C.O.R.E./$.C.O.P.E. for automotive suppliers.
Cloud Connected
Infor CloudSuite Industrial Automotive is cloud based, so you can be assured your solution and your compliance requirements are always up to date.
Final Thoughts
Compliance is just one important dimension of CloudSuite Industrial Automotive. Hop over to our Automotive solutions page and learn more right now or click the link below to schedule a live software demo from a Guide Technologies automotive industry solutions expert.