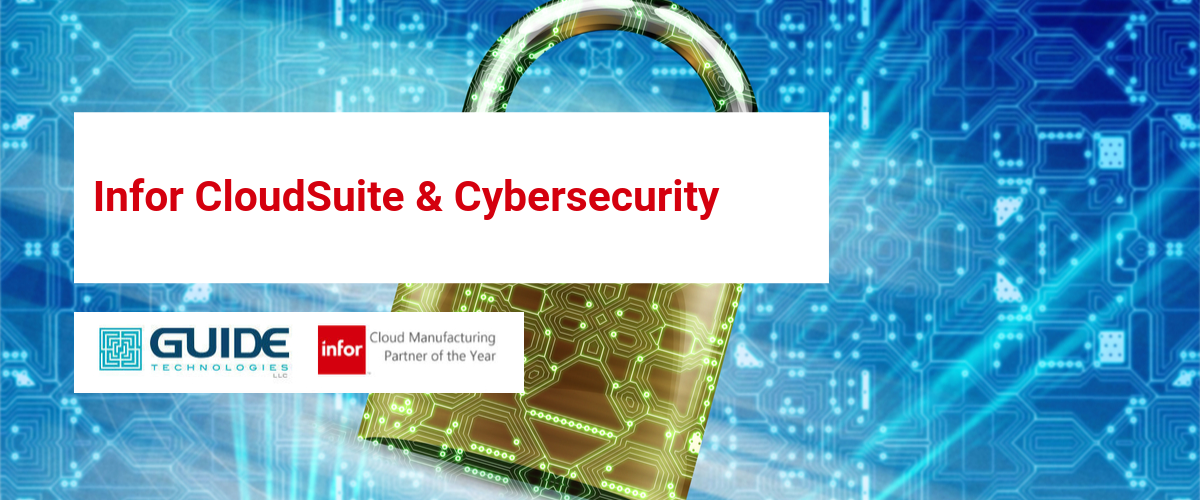 October 07, 2019
Infor CloudSuite & Cybersecurity
October is National Cybersecurity Awareness Month
National Cybersecurity Awareness Month (NCSAM) is held each year to raise awareness of how important cybersecurity is and to make sure online users have all the tools needed in order to be more secure when accessing the internet. Cybersecurity is the protection of computer systems from the theft of or damage to their hardware, software, or electronic data, as well as from the disruption or misdirection of the services they provide.
Security is a major concern when it comes to the cloud environment, including cloud manufacturing solutions like ERP and BI systems. Infor CloudSuite employs a "defense-in-depth" strategy when safeguarding your data. What this means is that there are various layers of security that overlap when protecting customer data. The Infor Cloud security staff operates 24/7 to monitor the cloud environment.
The Five Security Layers
1. Application Security
Security requirements for every product is defined and configured into software design

Top 10 Open Web Application Security Project (OWASP)-based code review 

Vulnerability testing throughout the product's lifecycle
2. Network Security
The networks with Infor CloudSuite are independent and kept separate from the regular, more general Infor network

Multi-layer architecture built to safeguard possible attacks

The Infor CloudSuite network is wired, preventing exposure to third parties
3. Physical Security
Biometric protected data centers run the network and infrastructure
4. Infrastructure Security
IT services are built and maintained in agreement with the required security standards for global data centers
5. Monitoring
Data ownership - Customers can access it at all times

Managed configurations enable security

Password management - Multiple unsuccessful password attempts alerts the network management, prompting investigation 

Ability to authenticate a server - Infor CloudSuite presents an authenticated identity
Related Resources:
Secure Your Manufacturing Data in the Cloud
The list of security features that Infor CloudSuite offers goes on and on. Call Guide Technologies to discuss implementing secure cloud manufacturing solutions for your factory, or to get more information on cybersecurity in manufacturing.