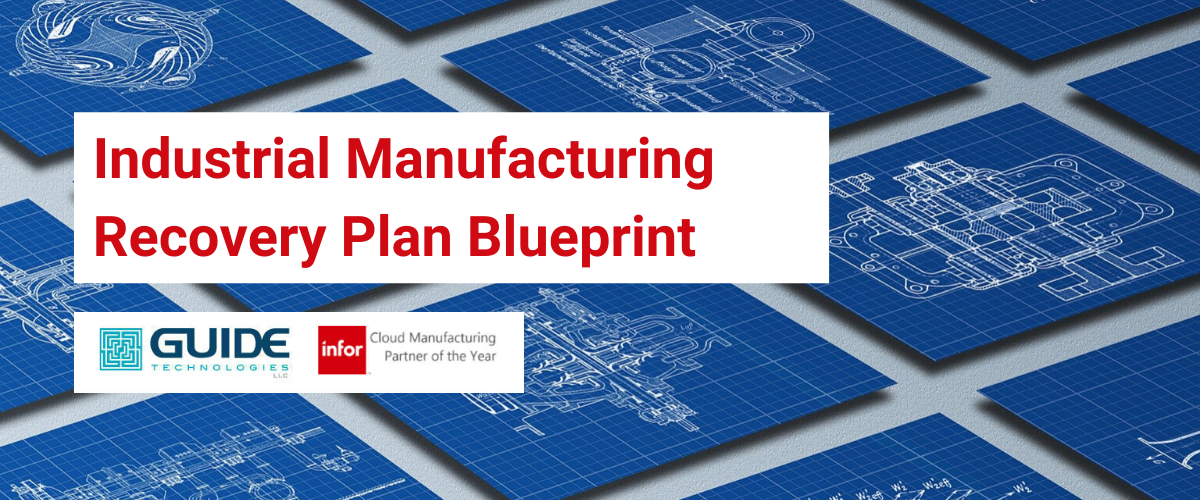 June 17, 2020
Industrial Manufacturing Recovery Plan Blueprint
What is a Manufacturing Recovery Plan?
In today's world of increasingly connected technology, extended downtime is a manufacturing company's worst nightmare. No matter why the downtime exists, whether that be due to a natural disaster, a pandemic, or even human mistakes, the overall impact can affect each element of your enterprise. The impact can potentially hurt your company's operations, which could result in increasingly high costs and bad customer experiences. This could have a long-term impact on your entire business's reputation. Having a manufacturing recovery plan can ensure that your organization is back up in and running.
Guide Technologies offers many services that help to make sure your business is ready to recover quickly from a crisis. When designing your company's ERP software and processes, we ensure that you can continue focusing on expanding your business to gain a competitive edge, while our experts and your Infor solutions take care of workflow and supply chain adjustments and bringing your systems back up to speed.
Elements of the Manufacturing Recovery Plan
1. Mission-Critical Staff
When disaster strikes, both managers and team members will perform many roles. For this part of the Manufacturing Recovery Plan, make sure to identify each of the executives, stakeholders, and others who will be required to make immediate decisions if in an emergency.
2. Critical Staff Responsibilities
Once you have identified the critical personnel, outline the responsibilities and course of action each of the individuals would have to take in an emergency situation.
3. Urgent Medical Response
For companies that put their workers first, create a Manufacturing Recovery Plan that explains how you would respond to a potentially life-threatening disaster. Recognize the type of care that would be given on-site, where emergency medical supplies will be located and how to get access to them, or the place injured workers would be taken if needed urgent care.
4. Contingency Operations & Backup Places
Outline what will have to happen to reestablish operations in multiple different types of emergency scenarios.
5. IT Continuity
The Manufacturing Recovery Plan should provide detail about backup processes and the needed technology to restore your company's data, its networks, and the physical IT infrastructure.
6. Managing Equipment Assets
You will need to have current inventories of all business equipment and assets. Outline the assets that would be critical to continue operations, and how you would replace them if necessary.
7. Communication Strategy & Methods
Include how employees would communicate when the traditional method is inaccessible in the Manufacturing Recovery Plan.
8. Document Storage
Outline how you would protect/restore important paper files. What is your document backup method?
9. Plan Re-evaluation Schedule & Point Persons
Explain who would be the one to rewrite and reevaluate the Manufacturing Recovery Plan, and how frequently this would need to happen. The coordination throughout your company's departments is very important. Consider outlining certain employees from each department to help create the information that is required.