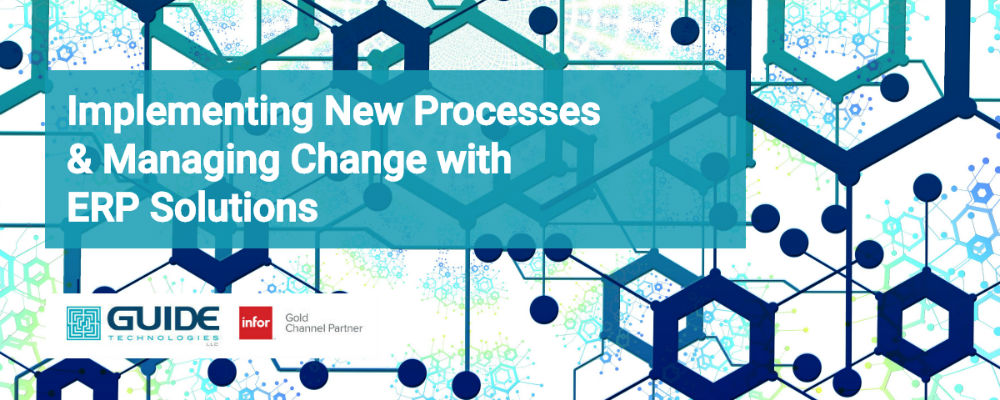 October 30, 2018
Implementing New Processes & Managing Change With ERP Solutions
How Do ERP Solutions Help Manufacturers Implement New Processes & Manage Change?
If there is one area of a manufacturing business that has the most to gain from enterprise resource planning solutions, it is managing change. Change is inevitable and constant in manufacturing. We're not just talking about minor MCRs and MCOs here. We're talking about big-picture changes that have broad-reaching impact throughout many business areas.
Implementing and automating processes
Complying with new regulations
Restructuring & leadership changes
Mergers & acquisitions
Entering new markets
Managing growth
All of these major business changes can be made much easier and more effectively with the right ERP system in place.
Explore Industry-Leading Infor™ CloudSuite ERP Solutions >>

The Power of ERP
A well-designed and strategically implemented ERP solution is an indispensable tool in managing and accelerating your business growth. Let's explore some of the ways ERP makes managing change easier for manufacturers.

Real-Time Reporting
ERP gives you a real-time view of your business and performance data. It keeps all information across departments easily accessible in one place, so you are better equipped to make effective and efficient business decisions. Transparency across departments also enables better control over costs.
Business Process Improvement
Today's intelligent ERP solutions can identify the best, most efficient processes and streamline your workflow across the entire supply chain. Because these systems are designed to help manage and analyze data, they are useful for improving scheduling processes, allowing leaders to better allocate tasks for greater efficiency. In addition to more flexible inventory management and integrated customer relationship management software, ERPs also offer simplified reporting to further improve processes.
More Efficient Workforce
Implementing an ERP system allows for the automation of tedious tasks, therefore significantly reducing the workload of employees so they can focus more on their key responsibilities. Additionally, they are able to access data outside of their department so they are better informed for task planning and can work more efficiently.
Up & Down Integration
Necessary support from vendors, customers, and partners can be aligned with your ERP system as well. The integration of processes like inventory management and billing makes it more convenient for all parties doing business with you.
Build a Brighter Future
All companies, big or small, strive to grow. To sustain the growth and overcome challenges associated with it, it is necessary to be able to make strategic business decisions. By analyzing data and giving real-time insights, ERP solutions are here to help.
Identify & Overcome Obstacles
Finally, ERP systems are also able to identify potential obstacles to business processes or growth, so you can make quick moves to avoid them or create a plan to handle them head-on.

Make the Change
Want to get started with Infor ERP solutions? Contact Guide Technologies. We are an Infor Gold Channel Partner with over 20 years of experience helping manufacturers find, implement, and optimize software solutions to grow and improve their business.