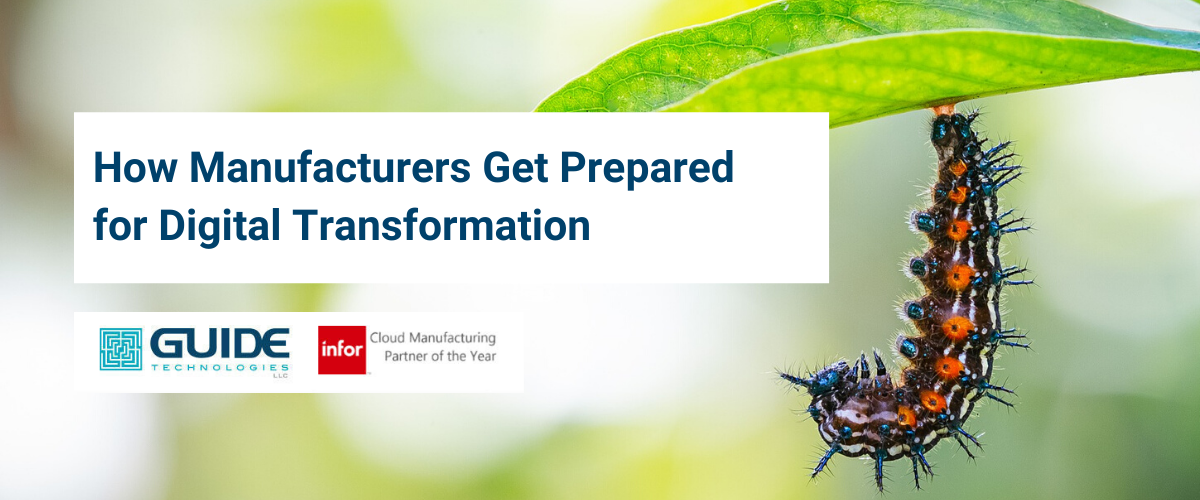 February 13, 2020
How Manufacturers Get Prepared for Digital Transformation
Keep These Skills Sharp for a Smooth Journey into Cloud ERP
Navigating the changes that come with digital transformation in manufacturing is always a challenge. Like anything in life, it is better to go in well-prepared. Whether you're just now starting your journey or are already on the move, your skills and solutions need to be on-point. Manufacturers should build up knowledge in these key areas to get prepared for digital transformation.
Cloud Computing
Cloud software is fundamental to digital transformation in manufacturing. Honestly, it's fundamental for just about every industry these days. By choosing leading-edge cloud software solutions, implementing them properly, and digging past the surface to really use them to their advantage, you'll create a technology foundation that puts you in the lead.
Learn about Infor CloudSuite Industrial - the #1 Manufacturing Cloud ERP of 2019
Big Data Analytics
When you unlock the power of Big Data, you gain valuable insights into your manufacturing supply chain, production lines, financials, customer relationships, and the back office. With these insights manufacturers can make smart operational decisions that cut costs, improve quality and create competitive advantage. Honing your business intelligence skills and implementing solutions that provide predictive analytics are the next best thing to a magic mirror.
Learn about Birst BI & Analytics
Cybersecurity
The more manufacturers depend on technology, the more they need to focus on security measures. Ensuring the integrity, availability, and confidentiality of data both on-premises and in the Cloud is crucial not just your company, but your partners, customers, and employees as well. Understanding your security risks and the types of technologies and processes available to protect your company and data will help you not only choose the best solutions for your factory but implement and manage them in a way that keeps you prepared to handle new threats in the future.
Learn more about Infor CloudSuite ERP Security Features
Machine Learning
Machine learning is a specific application of artificial intelligence (AI) that gives IT systems the ability to "learn" for themselves. In the manufacturing industry, companies are combining machine learning with Internet of Things technology (IoT) to optimize production and operations. However, AI, IoT, and machine learning are cutting-edge technologies, and many enterprise IT personnel don't yet have the knowledge or skills to support their implementation. Manufacturers who skill up in these areas could quickly find themselves well ahead of their peers.
Learn More: Artificial Intelligence, Machine Learning & the Factory of the Future
Managing Change
As all these factors reshape how manufacturers operate, the ability to adapt your business and digital processes to change is critical. With these skills and the right solutions, you can create a culture of flexibility and prepare your company to take on the world. At the very least, you will be prepared to meet with your ERP channel partner, speak about your needs, and start taking confident steps forward toward your manufacturing digital transformation.
Related: Implementing New Processes & Managing Change with ERP Solutions