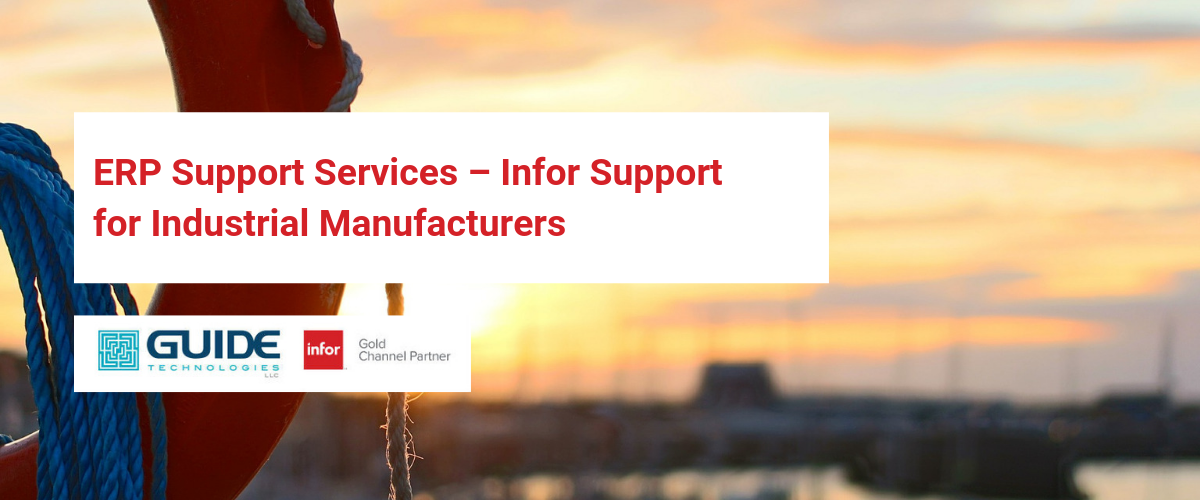 August 02, 2019
ERP Support Services - Infor Support for Industrial Manufacturers
Need ERP Support? Guide Technologies & Infor have your back.
There's a reason why companies like Apple, Slack and IKEA are considered best-in-class and beloved by customers around the world. It's not just that they make terrific products, it's that they support them well and provide stellar customer care.
When you make an investment in enterprise technology like ERP and cloud solutions, you are making the choice to entrust another company (the software vendor) with your business and its data. This is a big decision, a major move, and good reason to expect that someone will be there to support you when you have questions, curiosities, and challenges using the solution.
With Guide Technologies and Infor, you can rest assured that your enterprise manufacturing solutions are well supported. Infor® supports your ERP. Guide Technologies supports you!
Infor Xtreme Team
Infor understands that a solution as powerful and all-encompassing as CloudSuite Industrial is going to bring a lot of questions. End users – especially those who haven't used an enterprise cloud solution before – are going to need resources and day to day technical support, including assistance from real people who can help them using plain language and plenty of patience. Without support, your internal IT staff would be left to handle this alone.
Enter Infor Support Services and the Infor Xtreme™ Team, Infor's support squad dedicated to helping you get the most value out of your solution.
With Infor Xtreme, whether connecting via your Infor customer portal or over the phone, you will get full support from professionals who have deep expertise covering Infor's solutions and industries, including Infor-managed upgrades that keep your technology optimized and up to date. The benefits of Infor's cloud support and service options include:
Online & Phone Support
Get the most from your solution with access to online chat sessions, knowledgebase articles, and video briefings on Infor's latest application features – all delivered via the Xtreme™ Portal. You can also get help when you need it by speaking with an experienced support representative during regular business hours.
Upgrades
Ensure your business stays up-to-date and up-and-running on the latest version of your technology solution. With cloud deployment, upgrades are taken care of automatically with minimal disruption to your business operations.
Premium Options
Includes 24/7 critical incident support for severity 1 issues; a flexible set of remote administrative service offerings across a broad range of categories; and a designated Customer Success Manager (CSM) to provide you with advice and guidance on your CloudSuite application.
Guide Technologies Supports Infor Customers
In addition to Infor's phenomenal support resources and day to day user assistance, clients of Guide Technologies also benefit from our support as their dedicated Info channel partner. Just like Infor is there to support your software, Guide Technologies is there to support YOU. As a company, we've been helping manufacturers navigate the world of complex technologies and business process improvement for over 20 years. As individuals, but our consultants each have an average of 20 years of real life, inside-the-industry manufacturing experience. This experience adds up to expert guidance for your business:
Selecting the right software and services
Customizing and extending solutions to fit your needs
Developing workflows that work for your business
Award-winning implementation methodology that puts you on the fast track to ROI
Delivery options that meet your business objectives
Navigating changes in software and workflow
Making sure you have reliable ERP support when you need it is a key element of our role as your Infor channel partner. Guide Technologies offers many value-added services to help you make the most of your manufacturing technology investment before, during, and after you "go live."
Manufacturing ERP Assessments
As your business changes, your workflow needs and technology requirements will change as well. Our experts help you assess your ERP system, including learning about your processes, discussing your challenges, and analyzing your IT systems. We can find the root cause of performance issues, tell you if you've outgrown your ERP or are under-utilizing your technology, a prescribe solutions to steer you in the right direction.
ERP Implementation Support
Our experts can help you implement your new Infor CloudSuite Industrial (SyteLine) and enterprise software solutions and get on the fast-track to ROI. Our proven i25 implementation methodology offers many benefits to your business:
Delivers faster ROI than competitors
Reduces risk and exposure before implementation
Addresses technical, business, project management, and also human factors of change
Low disruption approach reduces impact on day to day operations
Designed to rapidly and efficiently implement multiple global locations
ERP Upgrades & Migrations
We have deep experience in successfully completing ERP upgrades for all versions of Infor CloudSuite Industrial (SyteLine), Info XA, Infor LN, and more Infor solutions. If you are interested in migrating from an older database to a newer, more flexible platform, we can be your guide.
System Conversions & Imports
Thanks to our expert IT team, Guide Technologies has the ability to import data from virtually any source into your Infor CloudSuite ERP database. Ask us about migration and import solutions for both new and existing Infor ERP customers.
ERP Maintenance & Database Administration
Your database is the core of your ERP. Consult with us to ensure it's being managed to maximize performance. We can also discuss your needs for backups and disaster recovery. We can help maintain the health of your applications and database so that your ERP environment keeps running at optimal performance.
Custom Report Writing
Get the custom reports you need to manage your operations. From slight modifications to a custom report solution, we deliver results that give you the insights you need to run your business.
Application Support
Once your Infor ERP goes live, you may need occasional support for your application on an ongoing basis. The Infor Xtreme team has your everyday needs covered with technical/user support, bug resolution, patches, and upgrades, but they may not be familiar with your specific business needs and unique features of your implementation. This is where application support from Guide Technologies comes in. When you have questions about your solutions related to workflows and business processes, you can talk to the dedicated consultants who worked alongside you during purchasing, design, development, implementation, and delivery of your Infor ERP solution. We are here to support you and guide you in the best direction for your business.
Embrace the Pace of Change with Infor CloudSuite & Guide Technologies
If you have other questions about Infor CloudSuite Industrial solutions or Guide Technologies' award-winning ERP consulting and implementation services, head over to our contact page and get in touch. Our manufacturing industry experts will be happy to help guide your success.