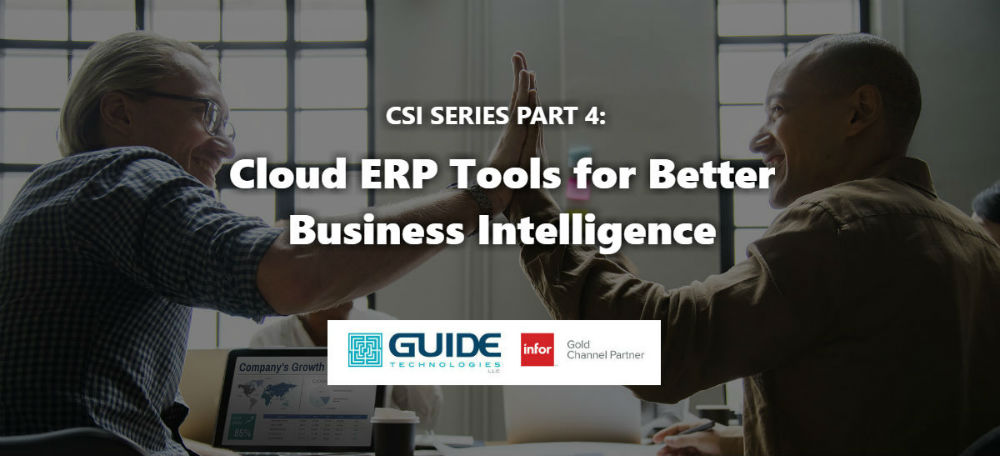 March 08, 2019
CSI Series Part 4: Cloud ERP Tools for Better Business Intelligence
BI (Business Intelligence) is defined as, "technologies, applications, and practices for the collection, analysis, and presentation of business information." Its purpose is to support better business decision-making.
The big driving force behind BI is "Big Data." Big data is a relatively new concept in the business world, emerging in the late 1990s-early 2000s. The phrase as it is currently used in the manufacturing industry dates back to 2005, when it was coined by Roger Magoulas of O'Reilly Media.
With the advent of the internet and cloud based systems, collecting data on markets or production lines has become incredibly easy. Perhaps too easy. Where there is so much data being collected, it is hard to comprehend its meaning, let alone put it to good use. It is not uncommon for companies eager to harness the power of big data to find themselves state of "analysis paralysis", buried in reports and unable to decide what to measure, review,  or act upon. Hence the emergence of "Big Data" as a concept and a whole new field of data science and technology solutions aimed at making sense of all this information and using it to improve business functions. 
A popular solution that strives to make business functions easy for small and mid-sized manufacturers is Infor CloudSuite™ Industrial (SyteLine) with Birst® enterprise BI and analytics. CloudSuite Industrial (formerly known as SyteLine and often referred to as "CSI") is an end-to-end ERP solution for both discrete and process manufacturers that includes predictive analytics, collaboration, lean production tools, and integration options. Infor gives manufacturers the tools to increase customer service, improve production and quality, better coordinate aftermarket service and maintenance, and collaborate more effectively. Birst is a enterprise business intelligence platform that streamlines and accelerates the processes of gathering, analyzing, reporting, and planning key business information.
Not familiar with Infor yet? Get the CloudSuite Industrial brochure or contact Guide Technologies for a demo.
Here are four cloud ERP tools that will assist you when making key business decisions with regards to data collection.
Role Based Dashboards, Metrics & Reports
The amounts of data coming in from your production lines will certainly be large. With so much of it, not all of the data is going to relevant to your employees. So we've introduced role based dashboards, metrics, and reports. Essentially it divides up all the data you've collected and organizes so it only shows data that is critical for each of your departments. Data that is critical to business performance is called KPI's, or Key Performance Indicators. Our software will sift out unneeded data and only show the relevant KPI's for each department.
Contextual & Predictive Analytics
We make the use of ERP's to predict how business processes will act in the future. This could range from shipping times, to needed maintenance on machinery. This is extremely beneficial to not only you, but your customers as well.  Receiving real times updates on your supply chain can give your customers that extra bit of clarity in your production process, ultimately making you a more trustworthy business partner. For instance clients could know exactly when they're receiving their products. Infor CloudSuite Industrial ERP automates, anticipates, predicts, and informs your stakeholders in everything you do. Our ERP system can help predict future trends and how you can adjust appropriately so you maintain business success.
Financial & Operational Reporting
CloudSuite has many kinds of reporting capabilities to show you how all aspects of your business are performing. Such as how efficient and profitable you are. Effectively manage, perform, and streamline every aspect of your financial and operating reporting needs including closing subledgers, reconciling the general ledger, closing the period, and running financial statements. You can eliminate repetitive, labor intensive work, and reduce costs at the same time. Financial and operational reporting lets you zero in on issues that matter by using ERP data collection systems. No more wasting time by sifting through reams of financial data. Instead you can focus more efforts on analyzing the data, than collecting and making sense of it.
Birst Cloud Analytics for Industrial Manufacturing
Birst, an Infor company, connects together the entire organization through a network of interwoven virtualized BI instances on-top a shared common analytical fabric. Companies can use Birst to unify complex data across sources, analyze complex processes and models in real time, and quickly transform raw data into valuable information. This adds up to faster results and higher ROI on your business intelligence investment. Download the Birst Product Brochure
Conclusion
If we recall, BI is driven by data, and with a large amounts of it being collected from our ERP system, we help manage all the data you collect. Infor's CloudSuite Industrial ERP system is designed to help manufacturers boost their customer service, production, quality, aftermarket service and maintenance; and collaborate more effectively.
If you have further questions about how cloud-based ERP and BI analytics systems can improve your manufacturing business, here is our contact page. Drop us a line and we'll get in touch to answer questions and schedule a demo.