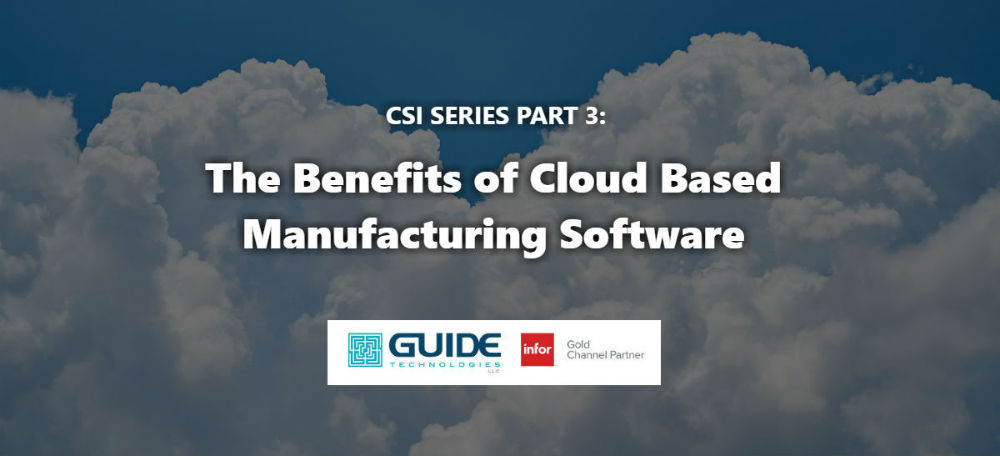 March 08, 2019
CSI Series Part 3: The Benefits of Cloud Based Manufacturing Software
It would be hard to find a competitive company operating in the 21st century without using cloud technologies. To us the reason is clear.  By implementing cloud based manufacturing software, companies can seriously decrease time spent dedicated to monitoring and fixing technical problems, and focus more on improving efficiency and customer relationships.
Gone are the days of having large amounts of IT staff, and having large databases and servers on premise at your work site. Infor® CloudSuite™ Industrial eliminates those needs, cuts those costs, and delivers better results. Here we are going to discuss more specific advantages and benefits of Infor CloudSuite Industrial's cloud manufacturing solutions.
1.  Security
Security is at the top of our priorities. Here are a just a few examples of how Infor keeps your data secure.
Dynamic password management

Server authentication through digital certificates

Incident monitoring, logging, and auditing

Regular code reviews
Of course, there is a multitude of other means of security taken to keep your solutions and data safe. If you would like to learn more about cloud application security, contact us here.
Infor is a proud partner of Amazon Web Services, the number one cloud hosting server in the world. AWS provides the utmost security of your data. Infor's cloud team builds upon the world-class security provided by AWS, using best-practice protocols and practical safeguards that not only protect your data, but also offer confidence and peace of mind.
For additional options and flexibility in Infor CloudSuite Industrial deployments both on-prem and in the cloud, Guide Technologies partners with Apptrix, the premier hosting and private cloud provider for CSI/SyteLine and ISM. Apptrix offers expertise in both Managed Application Hosting and Application Management of Infor CloudSuite™ Industrial (CSI/SyteLine), Infor CloudSuite™ Service Management (ISM). and supporting products.
2.  Extensibility
Efficiently manage all your business needs with CloudSuite app extensions. Infor's application extensions can be custom fit for almost any industry. CloudSuite has custom fit industry business platforms, such as automotive & specialty vehicles, industrial equipment & machinery, medical devices, high tech & electronics, discrete industrial manufacturing, and process manufacturing.
Moreover, CloudSuite has custom horizontal business platforms that can be tailored for technology platforms, general business platforms, customer experience management, and human capital management. Even if these don't suit your needs CloudSuite comes fully customizable. The majority of our customers actually report that CloudSuite is perfect for their needs without needs of manually changing the software. In fact 71% of Infor customers report needing only minor, or no custom changes at all.
"High levels of customization may indicate that organizations are failing to perform proper due diligence when evaluating systems against their business requirements. This can lead to the selection of a system that is not the best fit for the organization," Panorama Consulting notes.
3.  Integrations
You can connect Infor and non-Infor applications in the cloud because integration technology components are built right into the core of Infor CloudSuite architecture. CloudSuite has many product extensions and third-party software integrations that can give you a bigger, better picture of how your business is functioning. By building a simple and powerful system, CloudSuite lets you integrate with Infor extensions or third party applications.
Final Thoughts
Guide Technologies has over 20 years of experience in the manufacturing industry, so we full understand just how much cloud technology has changed manufacturing. We also remember "the before time' when things weren't so convenient and easy, which gives us a depth of expertise far beyond many less experienced firms. Grasping the full impact and potential of cloud manufacturing software isn't easy, but we are here to help. Give us a call or fill out our contact form to speak with a consultant. We'll answer your questions and gladly be your guide to greater manufacturing success.
This post is part 3 of a 4-part blog series on Infor CSI:
Click here to read Part 1: Transforming Manufacturing with Advanced Planning & Scheduling (APS).
Click here to read Part 2: Improving Quality & Service Management in Industrial Manufacturing.
Part 4 coming soon! Follow us on Facebook, Twitter, or LinkedIn so you don't miss it.