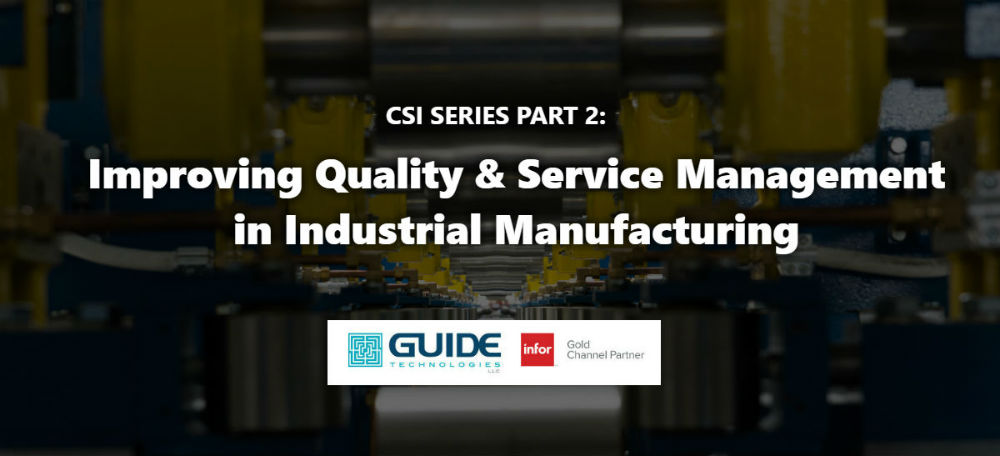 March 05, 2019
CSI Series Part 2: Improving Quality & Service Management in Industrial Manufacturing
Many manufacturers tout "quality" and "service" in their value proposition, but what do they actually mean? The terms are quite vague and abstract, leaving much to personal interpretation. Perhaps that is the point – allow customers to project their definitions onto the company's offer and they'll see what they want to see. This can be beneficial during the rose-colored sales cycle and honeymoon period, but often leads to problems later in the customer lifecycle.
So, let's establish some definitions. What do the terms quality and service mean to you? Here's what they mean to us at Guide Technologies:
Quality:  The standard of something as measured against other things of a similar kind; The degree to which technology can help a manufacturer provide better quality to its customers over its competitors.
Service: The action of helping or doing work for a client at the most reasonable and fair price; Making customers the utmost priority, keeping promises, and not just meeting, but beating industry-standard expectations.
With these definitions in mind, let's look at how Infor CloudSuite Industrial (SyteLine) helps manufacturers make good on their quality and service promises. Here are 3 examples.
1. Continuous Improvement
An efficient service department improves both your company's performance and productivity. You'll reach an even higher level of performance when you schedule and dispatch field technicians with maximum efficiently, provide them with access to proper historical data, and make sure they have the correct tools and parts on hand. With increased resolution rates and a quicker order-to-cash cycle, you'll achieve higher profits and improved customer loyalty. This is how Infor CloudSuite Industrial is committed to continuous improvement.
2. Aftermarket Sales & Service
Infor CloudSuite Industrial is an end-to-end ERP solution for both discrete and process manufacturers, which includes predictive analytics, collaboration, lean production tools, and integration options. You'll have the tools to increase customer service; improve production and quality; better coordinate aftermarket sales and services; and collaborate more effectively. Aftermarket sales can be a key contributor to increased profits.
3. Warranties & Service Contracts
With Infor CloudSuite Industrial (SyteLine) the never ending, wide-ranging array of questions asked by customers can be managed more proficiently. Questions ready to be answered include not only warranty tracking and service contracts, but pricing, availability, follow-ups, orders, support, or parts replacement too. CloudSuite Industrial gives you incredible insight into service contracts allowing for visibility into the contract details, unit, and service history. With the ability to manage and track service level agreements with maximum efficiency your decision making will improve and create opportunities to up sell or extend service agreements.
Guide Technologies is an Infor Gold Channel Partner with over two decades of in-depth, hands-on manufacturing industry experience. If you have any questions about CloudSuite Industrial or would like to schedule a demo, then contact us now to speak with an expert.