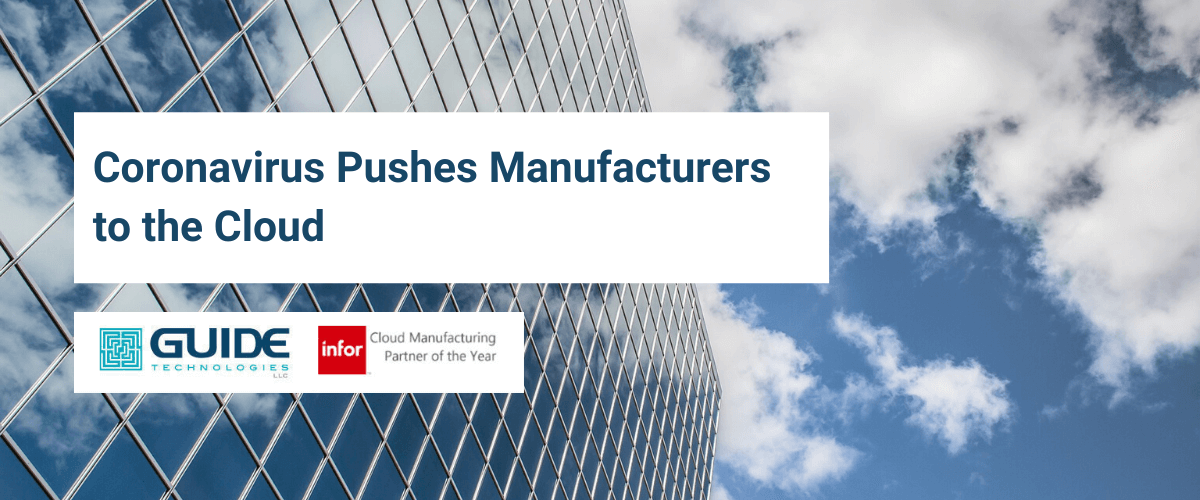 April 28, 2020
Coronavirus Pushes Manufacturers to the Cloud
Cloud ERP Solutions Deliver Manufacturing Business Continuity in Uncertain Times
The coronavirus (COVID-19) pandemic has forced people across the world to rethink everything when it comes to work, school, shopping, and even entertainment. With school closures, travel bans, and stay-at-home orders impacting our communities, many individuals and businesses have turned to digital tools to keep things going. Welcome to the latest wave of digital transformation.
Like so many things since the pandemic began, the call for manufacturers to leverage modern technology has gone from "crucial" to "essential". Companies that are able to utilize technology efficiently to keep going while retooling their processes and business model for the coming future, essentially fast-tracking digital transformation, will be the ones who push ahead of their competitors. Without any doubt, the time is now to move to the cloud.
Why Migrate to the Cloud?
As we head toward a new normal in which COVID-19 may continue impacting communities and supply chains long into the future, manufacturers will need greater flexibility in their critical operations. Production plans and processes must be able to change. Workflows need to adapt. Data needs to be real-time. Jobs that can be done remotely should be when called for. All the things that manufacturers need right now are precisely what enterprise cloud solutions deliver.  Companies that move to the cloud will be able to continue their work remotely and more easily adapt their operations to remain productive under new conditions.
Even if the novel coronavirus were to disappear tomorrow, now that we've seen how severe the impact of a global pandemic is and just how quickly it can happen, pandemic response should become a standard part of every manufacturer's business continuity strategy. Cloud ERP should be part of this plan.
What Is Infor CloudSuite ERP?
Infor CloudSuite Industrial ( SyteLine) is a cloud-based enterprise resource planning system (ERP) made for industrial manufacturing. It provides a suite of software applications, productivity tools, and data that help manufacturers monitor customer demand, schedule delivery dates, and track resources. Everything is hosted in the cloud and accessed via the internet, making "work from anywhere" a reality for teams that have the ability to work off-site. This is a valuable feature in our current global situation, as companies seek ways to stay productive while keeping their employees and partners safe.
With versions of CloudSuite tailored for multiple manufacturing verticals, a modern user interface with interactive dashboards, and easy customization, it is clear why Infor CloudSuite Industrial is a leader in the industry. Follow the links below to learn about CloudSuite solutions for your manufacturing verticals.
Facing the Future With Cloud ERP
Right now, your most valuable resource is time. Any move you make needs to be made fast so you can be ready for what comes next. Infor CloudSuite Industrial is designed to help companies move to the cloud quickly and with minimal disruption to your business. As Infor's Cloud Manufacturing Partner of the Year 2019, Guide Technologies has a proven track record of helping manufacturers achieve their implementation goals on-time and on-budget. If you're interested in Infor CloudSuite, contact Guide Technologies for a demo today.