Cloud is no longer just a buzzword or a far off idea; many manufacturers are already using it to stay competitive in an industry where customer demands are constantly shifting. Investing in a cloud platform is a strategic business decision, not just an IT department move. With cloud manufacturing, you gain real-time agility, speed, and insight throughout the operation.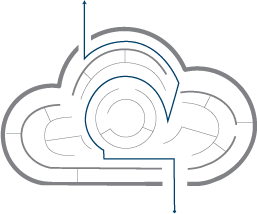 Customer- Centric Approach
In order to meet the ever-increasing customer expectations, manufacturers need to be faster, smarter, and more reactive. Today's B2B customers have very high expectations, they demand high quality products and even higher quality service. Manufacturers must be more efficient and responsive to customer demands. The cloud can help streamline business process for even the most highly configured products, resulting in increased productivity and customer satisfaction.
The cloud enables manufacturers to operate with a single source of truth. It eliminates disparate tools and unconnected data silos, which cause discrepancies in data and often lead to uninformed decision making. The cloud eliminates the need for manual input or syncing up of data needed because they are always current—there's no version control issues—so you feel confident in your ability to make decisions. Your employees need timely and controlled access to your business and operations data for more-informed decision-making—anywhere, from any device. The cloud will give you that connectivity.
Cloud solutions have monthly subscription rates, which can be covered as an operational cost instead of a one-time capital investment. This is a game changer for SMB manufacturers with limited capital reserves because it means they can deploy a state-of the art ERP system, now when you need it, instead of waiting to free up existing capital. In addition moving to the cloud eliminates the need for costly hardware requirements. Cloud deployment moves the burden of time-consuming software upgrades from your IT department to the hosting company. Without this continual upgrade distraction, manufacturers will have the resources to focus on other issues, and they will have the most up-to-date tools to assist them.

Cloud computing is transforming virtually every facet of modern manufacturing. It provides scalability, high availability/disaster recovery, and managed services (which reduce the need for highly specialized IT skills). The cloud helps manufacturers innovate, reduce costs, and increase their competitiveness. With the cloud, you will be able to spend time on product innovation and customer relationship, and less time on managing the implementation and IT infrastructure.