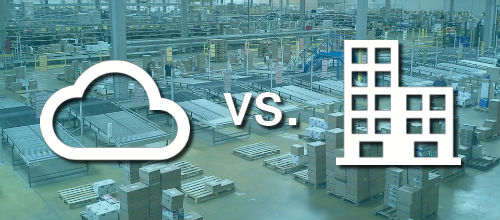 January 29, 2017
Cloud vs. On-Premise ERP Delivery Explained
So you're interested in implementing an ERP system for your company. You've done the research but now need to decide which delivery option is best suited for your business. Many within the manufacturing industry are deciding between two main hosting options for their ERP — Cloud based or On-Prem. Both provide benefits and downsides, so it's about what works for you. Let's dig in and take a closer look.
About Cloud Hosted ERP
The cloud is ideal for businesses who need something set up quickly, involves a low initial start-up cost but still includes all the advanced functionality as on-premise users have.  This is also a great solution if you wish to outsource the networking and other infrastructure responsibilities as those will be handled by Info experts.
 Benefits of a Cloud Hosted ERP:
Lower Costs initially and over time
Quick implementation with no hardware or software to set up
Backed up Data so you'll never lose data if your server were to crash
Internal IT staff won't have to worry about server or networking issues


About On-Prem Hosted ERP
On-Premise hosting options work well for manufacturers with a good amount of IT resources readily available. With On-Premise, this is owned and operated by you. Manufacturers who choose this hosting platform are solely responsible for the security aspects of the server, networking and systems.
Benefits of an On-Premise Hosted ERP:
Total control-the system is licensed and maintained by your organization
No outside risks- the cloud provider has access and control of the hardware and software
Control of data to keep sensitive information away from others


Choosing Between Cloud & On-Prem ERP
The decision of a cloud hosted ERP or an on-prem  hosted ERP is one that greatly impacts your company. You should know all of the benefits and risks as well as other hosting options such as SaaS and Hosted. We recommend you contact us so we can help in the decision making process. We've helped many manufacturing companies just like yours choose an option that suits their needs and are happy to provide assistance any way we can.