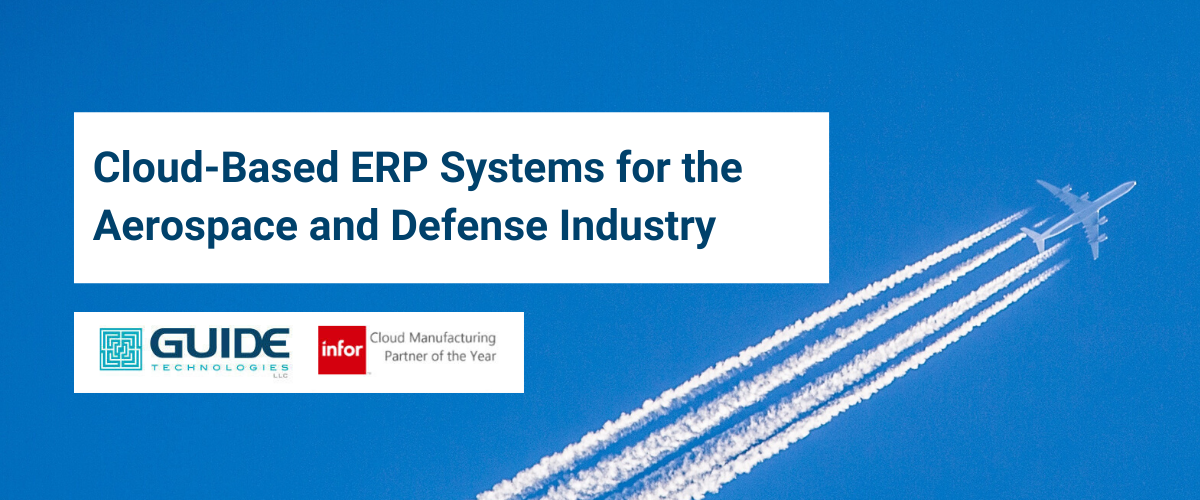 December 23, 2019
Cloud-Based ERP Systems for Aerospace and Defense Manufacturers
Cloud-based manufacturing ERP solutions have been essential to the aerospace and defense industry in the past few years. By utilizing customized and adapted ERP systems, aerospace and defense manufacturers have full control over critical business measures.
Why Aerospace and Defense Manufacturers Need Cloud ERP
An ERP solution should be built with a secure infrastructure to meet the needs of the industry it's made for. As we recently explored in another blog post, the aerospace and defense manufacturing industry is full of innovation and constantly-changing regulations. When rules and processes change, the tools you use need to change, too. Modern A&D ERP must support innovation and easily adapt to change. Cloud-based ERP has an advantage over other systems because of their speed and flexibility.
Cloud ERP can help improve aerospace and defense manufacturing in many significant ways:
Cost Management

Transparent Reporting

Predictive Analytics

Manufacturing Planning & Adjustments

Product Life-cycle Analysis

Seamless Communication Across the Enterprise & Supply Chain
Ways to Use ERP in Aerospace & Defense Manufacturing
Managing complex processes in a highly regulated industry is no easy task. A Cloud ERP helps those businesses in the aerospace and defense manufacturing industry do just that. Cloud ERP software has many benefits for the A&D industry. With Cloud ERP, A&D manufacturers can:
Automatically Conform to Predetermined business requirements
When you arrange for your ERP software to default industry regulations, you won't have any problem adhering to requirements such as safety regulations, licensing information, etc.
Track Products & Materials 24/7
When products are tagged, it will keep your ERP software with the most current information while being able to access information on your inventory from anywhere.
Accomplish Lean Manufacturing
You will be able to easily spot trends, allowing for less waste of materials and labor.
Improve Customer & Vendor Relationships
With easy and instant access to all your important data, you will be able to give the most current information to vendors or customers.
Infor CloudSuite Aerospace & Defense
Over 5,000+ aerospace and defense manufacturers worldwide rely on Infor® CloudSuite™ Aerospace & Defense as their cloud ERP of choice. While some other cloud ERPs may not fulfill every need, Infor's Cloudsuite is a complete industry-first solution with a secure infrastructure built specifically for the demanding needs of commercial A&D manufacturing and service. CloudSuite A&D helps you solve challenges and achieve goals including:
Integrating quality and compliance

Holistic supply chain planning and optimization across all channels

Full program and project execution

Efficient service planning and execution. 
Imagine quickly and easily taking steps to protect your company from the severe budget cuts threatening the aerospace & defense industry. Imagine implementing a highly flexible enterprise solution built to manage your complex operations and regulation compliance with ease. Imagine deploying that ERP system with a low total cost of ownership and minimal upfront investment—freeing capital for other ventures. This can be your future with Infor CloudSuite A&D.
Whitepaper: Top 5 Issues Facing Aerospace & Defense Today
Whitepaper: Cyber Resilience is a Necessary Component for Aerospace and Defense Digital Transformation
In the aerospace and defense industry, Infor's Cloud ERP offers the security needed to accomplish planning, production, supply chain visibility, and contract management. Are you an aerospace and defence manufacturer currently using Infor Baan IV or V, Infor LN, Infor XA, BPCS, CAS, Manman, or MK? Talk to us about making the switch to Infor CloudSuite A&D.
Guide Technologies Understands the Challenges of Aerospace & Defense Manufacturing
As an Infor partner with over 20 years of both enterprise software consulting and direct manufacturing industry experience, Guide Technologies is able to assist A&D manufacturers in the fast implementation of a cloud ERP. Get in touch with us to learn more about Infor Cloudsuite for Aerospace and Defense and how we can help guide your implementation.