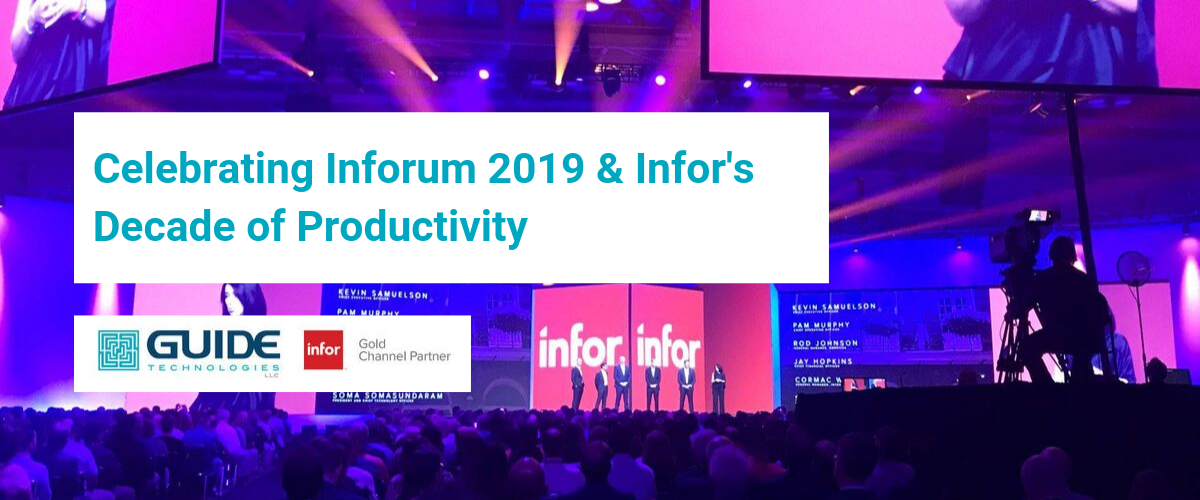 October 07, 2019
Celebrating Inforum 2019 & Infor's Decade of Productivity
Infor is a huge global leader in cloud computing for companies in specific industry markets. Infor produces industry suites within the cloud where they arrange their technology to create a user-first experience that can be easily integrated into a company's already existing systems. Infor has 68,000 organizations and customers around the world that rely on them to assist with achieving a digital, business-wide transformation. With over 71 million cloud users, Infor undoubtedly provides productivity to its customers.
What is Inforum?
Each year, Infor puts on Inforum, a user event for customers, industry leaders, and its team members. The event includes customer presentations, product sessions, panel discussions, partner and industry sessions, and, for the first time this year, expert insights panels. Through these sessions, attendees have the chance to learn more about Infor products, industry-related topics, and listen to the presentations from some of the company's most successful customers. As an Infor Channel Partner, Guide Technologies looks forward to attending Inforum each year as a place to learn about all the latest, greatest, and upcoming developments in the Infor world. It's also a great place to catch up with customers and business partners and get energized for another successful year of helping manufacturers drive productivity.
Productivity Delivered
This year, Inforum 2019 took place in New Orleans at the Ernest N. Morial Convention Center, held on September 23rd through the 26th. Inforum, Infor's main user event which takes place each year, allows for customers, industry leaders, and Infor team members to connect and share their insight. Infor's overall theme this year was "Productivity Delivered."
Infor's Plans for the 2020s
Infor's new CEO, Kevin Samuelson, explained how customers will now be able to expect "the new normal, productivity delivered". In fact, Infor called their plans for the 2020s "the decade of productivity". Samuelson further explained that this new normal will exhibit overall improved business results, where the company as a whole will be constantly searching for new ways Infor applications can deliver better productivity to their customers.
Infor's Newest Products
Other announcements that were made included Infor Coleman AI Platform, Infor Connected Analytics, and the company's new partnership with QAD Precision. Each of the new products Infor announced at Inforum is designed to help customers and to automate tasks that were seen as previous problems. Infor shared many real-world business cases that demonstrate where AI can free up time/effort. We learned a lot more about AI and how it can be used to maximize human potential by completing routine IT tasks and freeing up employees to spend more time solving real business issues.
Infor also announced its 2019 Partner Summit Award Winners and the annual Customer Excellence Awards. Grammy winner Salt-N-Pepa also performed as part of The Hub opening!
Guide Technologies at Inforum 2019
Guide Technologies was in attendance at the Inforum convention and was among other industry experts. To kick the week off Guide threw a customer bash at the Bourbon Cowboy along with sponsors Abacus, Apptrix, Single Source, QBuild, Synergy, and Watermark. During the conference XA Business Development Manager Rick, led an Infor XA Speed session in the Inforum Hub.
To wrap up a great week we attend the 2019 Partner Summit Awards. The awards that were given recognize Infor partners that have demonstrated excellence over the last year. This includes elements like revenues, fiscal year performance, yearly growth, etc. Guide Technologies was honored to win the Cloud Manufacturing Channel Partner of the Year award!

That's a Wrap
To get more information about our visit to Inforum 2019, or Guide Technologies as a whole, head over to our LinkedIn, Twitter, and Facebook! Don't forget to click "follow" and keep up with all our latest posts.